How to Choose the Best Manufacturing ERP Software in Saudi Arabia?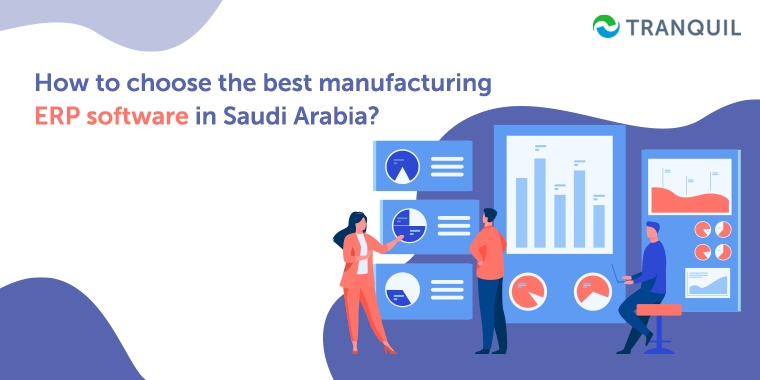 The manufacturing sector is highly dynamic and competitive and having large opportunities in Saudi Arabia.
In manufacturing industry it have to be an integrated solution that can enhance efficiency, increase sales and profitability most important case is to manage all the organization activities accurate.
Manufacturing ERP software plays an important role to manages growth and boosts productivity in each business.
ERP technology integrates all aspects of business in resources management, inventory management, project management, reporting, sales, accounting and finance, etc.
Empowers businesses to function smoothly by maintaining overall workflow in with a single platform.
ERP software solutions offers employees to work collaboratively, and time consuming improve the productivity with continuous trading and monitoring.
Powerful ERP solution, which will allow businesses to have entire view of organization.
It enhances the quality of manufactured items also increase production.
Flexibility – Improves Employee Efficiency
Streamlining the processes using an ERP software in Saudi Arabia, all data is available in a single portal with visibility and accessibility in all functionalities development and designing sections, inventory management, procurement, production, delivery and more.
Mobile friendly ERP enables employees monitor the production status in real time, without any dependence on an individual or team.
ERP solution in Saudi Arabia streamlines business processes and drives automation for Manufacturing Industry.
It accelerates the production process and minimizes errors and improves profitability in Business.
The mobile-friendly ERP applications helps in warehouse management.
Easy to Respond Market Conditions
ERP systems provide real time data analysis helps businesses estimation, planning, adjust and quickly respond to market requirements.
The detailed view of market demands and capitalize on customers purchasing trends them to reduce forecasting errors and capitalize on new opportunities if available.
Saves Time and Money
Manufacturing ERP software eliminates the need for revising paper documents, searching for paper documents in files and storing these paper documents information is consolidated in a single platform.
ERP decreases cost and improves profitability in Manufacturing organization Saudi Arabia.
Easy Forecasting and Reporting
Manufacturing organizations customer demands varies and its high risk to find and solve demands.
In warehouse management overloads with unsold excess inventory in Manufacturing.
To avoid this situation enterprise resource planning software system, helps to manage and track time to time track the availability of products.
Manufacturing ERP software manage production, warehouse inventory, procurement.
It helps you generate reports based on the availability of products and track each product stock.
With ERP create reports and manage all data with different departments.
Thus the manufactures can predict future demand and design material requirement plans easily.
We invite you to schedule a demo of Tranquil ERP at your convenient time and date so that we can explain to you and show you how exactly our ERP solution will help your business to gain rapid growth. Our team will be happy to answer all your queries. Contact us.