8 Benefits Of Software As A Service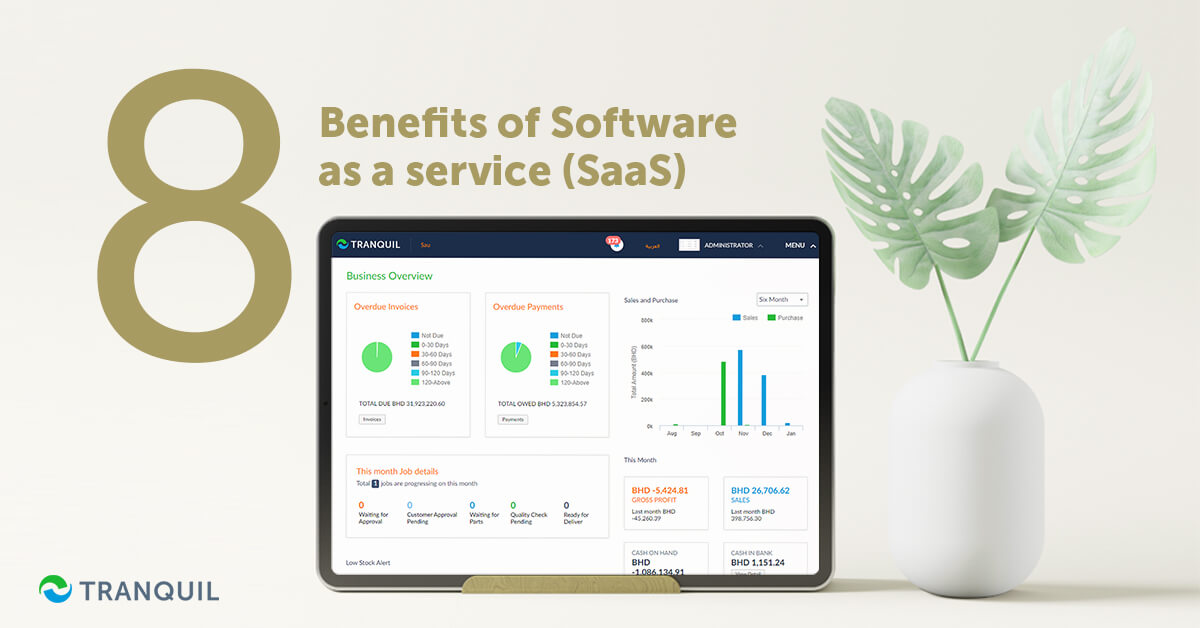 These days, companies are adopting various software systems to overshadow their contenders.
While selecting new software, companies may get a choice between how they want to access it – locally or hosted.
In case of on-premise or locally access, the software is purchased and then installed on each user's computer.
Generally, software licenses are limited to only one user or device.
ALSO READ: How AI transforming ERP?
On the other hand, with a hosted solution (Software as a Service [SaaS]), software lives on the cloud and users can access it anywhere as per their convenience via the internet. 
In earlier days, companies used to prefer locally accessed software.
But as technology is thriving day by day, the needs of businesses have also changed.
Hence, companies are adopting this SaaS solution to run their businesses in a hassle-free way. 
What is Software as a Service (SaaS)?
SaaS is a software licensing and delivering model in which
Software is licensed either monthly or annual subscription basis

Hosted centrally in a cloud

Can easily access via the internet connection 
SaaS is the perfect alternative to conventional on-premise software solutions.
It has become a very popular method of delivering many business applications, including:
office and corporate communication software

payroll and accounting programs

customer relationship management software

enterprise resource planning programmes

corporate performance management programmes 

mobile applications
SaaS provides a plethora of advantages over traditional on-premise software.
A prime advantage of SaaS over traditional software delivery methods is that companies can discontinue the subscription if service is no longer required.
This feature saves a lot of money for companies as they don't need to sign permanent contracts or don't need to face licensing issues. 
SaaS is quite different from conventional purchasing software and thus it provides a chunk of advantages to a company that uses it. 
ALSO READ: Future ERP Trends 
Benefits of SaaS
1. Cost-effective
By choosing SaaS, a company can save a lot of money for various reasons.
SaaS eradicates the upfront costs that a user needs to pay for purchase and installation.
With SaaS, now you don't need to spend a chunk of money on hardware resources, rather it is quite easily downloadable.
Moreover, it is maintenance-free from the user's end.
Secondly, SaaS encourages the pay-as-you-go model.
This means businesses should only pay for the software that they are using.
With SaaS, there is very less chance of wasting resources on unused licensing.
For small businesses, SaaS is indubitably beneficial.
Because these companies can now access high-powered software that is not only expensive but inaccessible through traditional methods of purchase.
ALSO READ: A Detailed Guide to Point-of-Sale Systems
Since SaaS is a subscription-based software, it abolishes the financial risk of expensive software.
Moreover, the SaaS vendor manages and handles all intricacy of the required IT infrastructure.
When a company deploys business applications through SaaS, they don't need to worry about the resource-consuming and maintenance of hardware.
Since the maintenance is taken care of by the SaaS vendor, companies can free up resources which they can utilize in other processes. 
2. Time Management
On-premise systems installation takes more time and effort.
Because the software needs to be installed on each user's computer.
Moreover, you need to do a lot of tasks including maintaining database servers, backing up the data, etc.
That's why the on-premise installation is more expensive as compared to SaaS.
On the other hand, for installing a SaaS application, you just only need a stable internet connection.
Moreover, with SaaS, you don't need to worry about maintenance as everything is taken care of by the SaaS vendor which is quite opposite to the traditional software installation.
Thus, with SaaS, you don't need to work extra hours to upgrade the software.
ALSO READ: What Every Business Should Know About CPQ?
3. Scalability & Accessibility
Another prime feature of SaaS is that it offers astonishing flexibility.
SaaS software is externally hosted by the vendor, that's why companies opting for SaaS can change their usage plan without giving any advance notice.
Moreover, SaaS software solutions can be easily accessed from anywhere in the world.
By using SaaS, users can access their data and work proficiently from anywhere.
This software is ideal for home workers and people who used to work at multiple sites. 
4. High Compatibility
If you choose a traditional method of software installation, updates are quite time-taken and expensive.
There will be compatibility issues because of version discrepancies between members of the workforce.
But with SaaS, a user needs to login to the latest upgraded version of the SaaS solution.
The SaaS vendor is responsible for managing updates and upgrading the software. 
SaaS offers end-users to access the most up-to-date version of the software.
Since SaaS you don't need to worry about software maintenance and incompatibility, thus you can focus more on the core activity of the businesses. 
ALSO READ: What Are the Stages of Fixed Asset Lifecycle?
5. Guaranteed Service, Backup, and Data Recovery
SaaS offers the user a guarantee on how well it will work.
But most of the traditional software doesn't provide this kind of guarantee.
With traditional software, (unless you adopt an expensive automated solution) weekly data backup process is time-consuming and a tiresome task.
By using SaaS software solutions, businesses can avoid this task completely.
Because SaaS supports automated data backups without user intervention. Thus, you will never lose any imperative data. 
6. Amplified Security
If you want to keep all your business information safely, then SaaS solutions could be the best option for you.
Because this keeps your information safer than traditional software.
If any unfortunate incident happens in one data centre, the other data centres continue to operate and deliver services.
7. High Adoption Rates
You should know that SaaS solutions are delivered over the web.
That's why employees are accustomed to this software because they are already used to working on the internet.
Thus, SaaS is highly welcomed and appreciated by the workforce.
ALSO READ: What is Dead Stock?
8. Try it Before you Purchase
Most of the SaaS service providers embrace the users with free trials of the products of the full version.
Thus, companies can take advantage of 'prep time' to see the viability of the solution.
This will also help them to understand how this goes well with their organization programs before investing a single penny on it. 
In Short
SaaS software application is hosted by the SaaS service provider. Every company can access this software through the internet

SaaS encourages rapid deployment. The set-up can be done easily and the initial cost is also minimal. 

Because of the large IT infrastructure and resources of the vendor, SaaS is quite stable.

If an organization uses SaaS, it doesn't require any expensive hardware with virtually no software maintenance expenses

SaaS subscriptions are available on a monthly or annual basis. 

Updates and troubleshooting can be controlled by the SaaS service provider

SaaS solutions are based on a multitenant architecture. This means all clients have a single version of the application. 

SaaS embraces the clients with low time to development.

If any disaster or mishap happens in the premise, the data remains safe because SaaS is cloud-based.

The adoption rate of SaaS is very high.

SaaS offers all the inherent flexibility of cloud-based services

Since SaaS apps are multi-platform compatible, hence, they can be accessed anywhere through the internet. 

Since SaaS is highly scalable, businesses can easily upgrade SaaS offerings as they evolve.

Organizations that have inadequate IT staff can rely on SaaS providers for updates and maintenance. 

SaaS updates are available to all clients at the same time. 
SaaS comes with many astounding features like easy upgrades, lower costs, and better scalability; thus, businesses are relying more on SaaS applications.
Many small and medium-sized companies are adopting SaaS instead of investing a humongous amount in hardware and traditional software licenses.
If SaaS implementation has done correctly, it helps companies to meet their requirements and also takes them to the zenith of success. 
Tranquil is an established cloud-based ERP software system that helps you to manage your projects and business seamlessly. Moreover, with this software, you can access your business data anywhere, any time. To know more about the product, you must visit the official website of the company.