Introduction of ERP software in Warehouse & Fixed Asset Management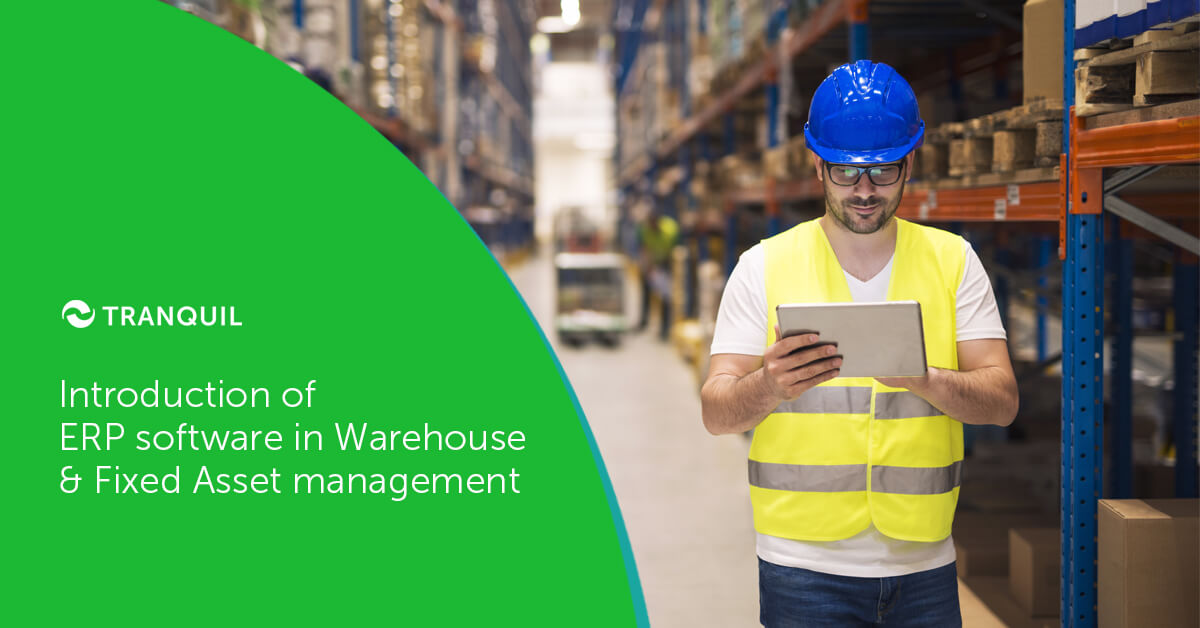 In this steep competitive era, every company needs to manage its warehouse including essential assets effectively to sustain and deliver the desired results.
Every company is thronged with fixed assets like machines, equipment, and inventories on their warehouses.
If a company can't able to track its fixed assets and warehouse management properly, then this may hamper productivity as well as will tarnish the reputation of the company in the market.
Here come warehouse management and fixed asset management ERP software solutions that are helping the companies in managing their day-to-day operations in the warehouses.
The inventory management ERP software solution and warehouse management solutions will lessen paperwork by digitalizing every process.
Now, from your product stocks to picking shipments from supplier to shipping the goods to the customer, you can manage everything in a hassle-free way.
This automated software system also reduces human error and enhances the efficiency and productivity of each process.
Hence, it will certainly make a good impact on your overall business.
Sectors that are using the best software for inventory management and warehouse management
Garment industry
Retailers
Here, we will discuss in a detailed way how ERP software in warehouse & fixed asset management is improving a business's performance and efficiency.
How ERP Software in Warehouse Management is Improving a Business Performance
1. Saves Warehouse Space
A well-performed warehouse & fixed asset management software solution saves a chunk of space if inventory is managed correctly.
This ERP solution ensures accurate stocking of inventory in your warehouse.
This helps the users to get a complete insight of stock so that they can place the order accordingly.
Moreover, this also helps companies to understand how many items are needed to fulfil the demands of the customers.
This, in turn, can lessen the chance of overstock or understock.
Thus, helps a company to utilize or save space.
ALSO READ: Inventory Management Problems and Solutions
2. Improves Bin Management
To run your warehouse smoothly, you need to know accurate inventory details.
This includes the need to have a perfect record of receiving and put-away locations.
Very often, the incoming products are stored in the wrong shelf slots. Hence, it becomes a daunting task for the pickers to locate them.
A radio-frequency ID (RFID) enabled system helps you to resolve this problem and makes bin management easier and facile.
Barcodes verify the correct location of the item and provide information to re-slot.
If you have a clear overview of stock locations, it will significantly reduce the time spent searching for them.
It also improves cycle counts and brings more accuracy to the inventory records.
This helps a company to plan its inventory in a better way.
3. Optimizes Inventory Planning
To achieve a balanced stock, you should opt for the right warehouse management software system.
This software helps you to monitor inventory, improves record accuracy, and enables appropriate demand planning.
By using this software, now a warehouse can store items properly and the most effectively.
This minimizes on-hand quantities and also reduces waste, scrap, and other desuetude.
The prime purpose of this software solution is automation.
This eliminates the arduous manual processes and simplifies connectivity between all departments.
ALSO READ: What is Negative Inventory?
4. Lessens Operating Expenses
A warehouse management software helps a business in many ways.
This software streamlines all business processes and identifies the most effective way to utilize workforce, space, inventory, and machinery.
By using this kind of software, you can easily segregate the expiring and perishable items.
Now, you need to pick up these items first for delivery.
This augments the picking and putting-away efforts.
Moreover, this will automatically reduce overall waste.
ALSO READ: Why is Cycle Stock Important for Your Business?
5. Lower cost
An ERP software system will not only streamline warehouse operations but also enhances the accuracy of every operation.
With the help of this software system, now your staff can verify inventory levels without doing any physical checks.
The company managers can coordinate all the activities with just a few clicks.
Data redundancy is a big problem when you are using multiple systems.
This can lead to errors that will cost you money.
By using ERP software for the warehouse management system, all information is updated in real-time across the entire company.
So, there is very little chance of discrepancies that can cause errors.
Eliminating errors and rework will minimize your operational costs.
6. Improves Relations with Customers and Suppliers
The ERP software system for inventory is not only restricted to the internal process and inventory management, it goes far beyond.
The smart design and automated process of the software optimize all operations.
This leads to accurate picking and shipping of orders.
By implementing this software system, companies are responding to their customers instantly and also, trying to fulfil the wishes of customers in a better way.
This automatically makes a strong and robust relationship with both suppliers and customers with fewer imprecisions.
7. Boost's Productivity
By implementing an ERP inventory and warehouse management system, companies are optimizing their material flow that can churn out more work in less time.
These systems control your inventory in a better way.
It is quite beneficial for workers as they know exactly where any particular product is shelved.
This automatically reduces the time spent on searching and minimizes the risk of overexertion.
Moreover, the system also helps cross-docking of shipments, thus, it reduces warehouse handling and enhances the entire productivity of the warehouse.
8. Increases Security
A well-organized warehouse management software system comes with advanced tracking features.
These features keep scrupulous records of the inventory.
The software encourages creating every individual user account for each employee.
All employees need to use these accounts at the time of entering transactions.
This creates a path where each transaction is connected to specific employees.
This enhances accountability and reduces the risk of loss.
So, in a nutshell, you can improve the security of your warehouse by implementing an ERP software system.
ALSO READ: Tips For Efficient Stocktaking 
9. Effective Management Control
The integrated stock management system helps you to manage your warehouse with effective control.
ERP software system produces a real-time report for every business operation (finance, human resource, inventory tracking and demand planning) of your warehouse.
By implementing this software, you can get advance warnings to rectify mistakes and issues within the processes. In this way, you can control loss to your business.
An impeccably designed warehouse & fixed asset management software system brings a plethora of benefits if you implement it properly.
But finding the best software that will cater to all the needs of your business, still remains one of the biggest challenges for the companies.
ALSO READ: What is Stock Adjustment and Stock Transfer?
You should opt for an ERP solution that would provide the innovation, functionality, and versatility needed for businesses to sustain and thrive in this competitive era.
This is the time you need to manage your inventory properly with the Tranquil inventory management ERP software solution.
This software solution helps you to track your inventory and manage all your warehouse operations effectively.
Though there are many inventory management free software solutions in the market, still, you should opt and implement Tranquil inventory management software to boost up and enhance the productivity and growth of your company.
At Tranquil we have our own robust ERP system that can help boost the overall productivity and efficiency of your organization.To see for yourself how our software works and how it can benefit your organization, do schedule a demo with us at a time of your convenience.