Factors for a Successful ERP Implementation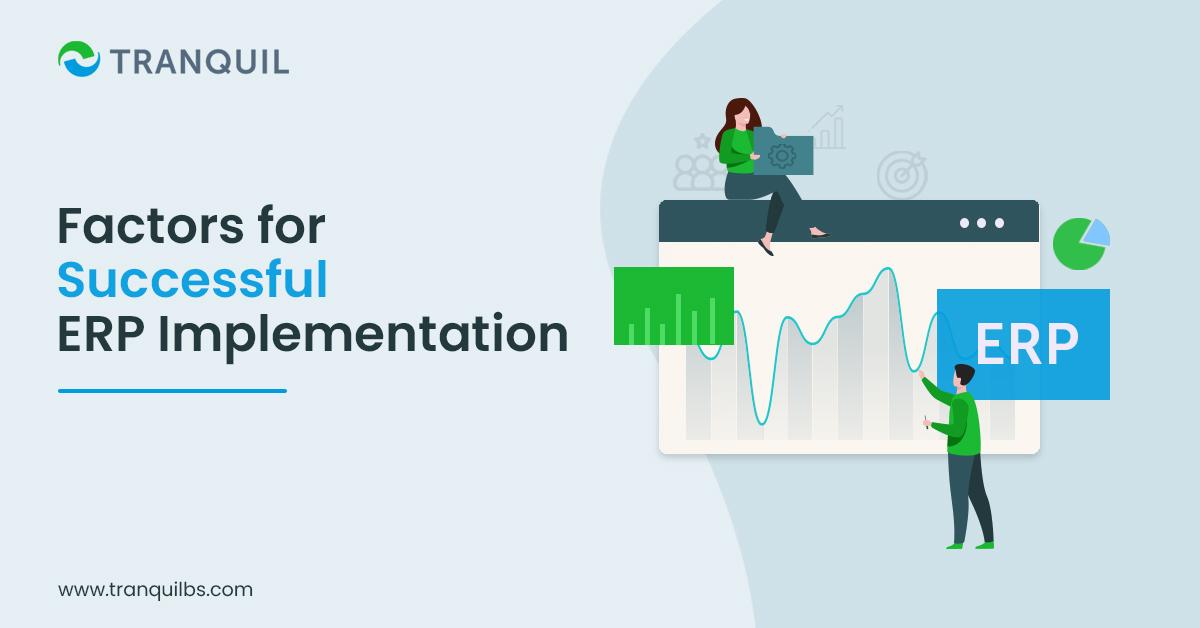 ERP is the utmost business software solution that will accelerate the growth and profit of a company.
The core objective of ERP software is to assimilate all the systems of entering data and processes, as related to business.
These days every large scale and medium-sized companies are working strenuously to enhance their presence in the global market and in this context, ERP holds a lot of promises both in terms of supply and demand.
Companies are adopting various ERP implementation approaches for the betterment of their business and growth.
Nowadays, ERP implementation approaches are major assets for any organization and the intricacy of the ERP assignments are the next chief features that affect the cost of ERP implementations.
Though different organizations may adopt the same ERP software in diverse circumstances and the same company may integrate different ERP software applications.
ALSO READ: Reasons for Failure of ERP Implementation
Still, there are some common factors for successful ERP implementation phases despite the ERP systems they implement or the methodologies they use.
Well-calculated ERP implementation strategies are the answers to the success of the ERP system.
These days, companies are well aware of how to implement ERP for their business.
Here, we are going to mention some prime factors for a successful ERP implementation.
Factors of ERP Implementation
1. Project Start-up
By preparing all imperative information, perform the due diligence of getting the project on the right track.
You also need to communicate it properly to the appropriate personnel.
You can do the below-mentioned tasks to make your projects successful.
Prepare/review the business strategy
Prepare/review the IT strategy.
Prepare/review the ERP strategy.
Prepare/review the project scope
By applying the proper change management strategies and techniques, prepare the organization for process changes and the new system.
ALSO READ: Top Trends of ERP System For The Future
2. Data Collection
Data is another prime factor of growth for any organization.
The success of the ERP implementation certainly depends upon shifting the useful data and bringing it to the forefront.
The data should follow semantics and should be layered based on access priority.
Moreover, all data chunks should be carefully examined and then organized into spreadsheets.
A classification method is needed to establish and the data should be imported into the ERP system accordingly.
ALSO READ: Interesting facts about the CLOUD ERP solutions
3. Project Scope
Your ERP system will not satisfy every need of the organization.
Develop the ERP strategy and understand the components of the ERP, what is ERP implementation life cycle, and how it will fit with other systems and tools.
Define your project scope mentioning every detail including what the project is going to deliver.
You need to make a concrete plan by understanding your business needs.
The ERP will please some of your business needs. Make a plan regarding how other business requirements such as data management, business intelligence, social media, etc. will be met.
Sort down items where you can't implement ERP.
4. Project Team
The core project team should be comprised of full-time personnel, including a project manager and others representing the core areas of the business.
If you need to hire a consultant ensure that the core project team should have a good and cohesive working relationship with the consultants.
Also, identify resources from the various areas of the business to provide subject matter expertise.
Employ recognized implementation methodologies and tools to accomplish your project.
Empower a team to make decisions on implementation
The location will be the same for the core project team
Create a competency centre for post-go-live support needs.
Identify subject matter experts (SMEs) from relevant areas across the organization.
ALSO READ: Important ERP Modules and Functions
5. Define Expectations
Once you adopt an ERP system, it will certainly change and optimize the way your employees work.
Moreover, the entire implementation process will make an impact on your entire organization.
So, all affected team members should be informed and involved.
Educate and train them for modifications of the ERP system.
Also mention, they might need to face an extra workload during the process.
Too often customers demolish the necessity to participate in analysis workshops or training, to test configurations or customizations, to train power users or end-users, to install and update appropriate SOPs, and to offer consistent support during the go-live phase.
So, you should consider that you and your team will need to provide 2 to 3 times the budgeted time that you have.
So, if you estimate that the project will take 100 hours to complete, then you should ask your teams to invest about 200 to 300 hours.
In an ERP implementation process, you need to define goals and expectations.
Meet expectations rather than face surprises.
Keep ready your team for unforeseen challenges and then, start the ERP implementation process.
Keep them updated during the process.
Celebrate with them when you have achieved milestones.
ALSO READ: Importance of ERP System in Different Industries
6. Customizations/Modifications
Most ERPs are built with embedded best practices.
An organization should keep tight control on the customizations, as they might decrease the use of the accepted procedures.
These modifications may uplift the project scope and budget.
Check other ERP implementations in the industry and see what customizations were required.
Conduct a gap analysis and arrange the gaps (High=Required, Medium=Workaround Exist, Low=Nice to Have).
Set clear expectations for customization
By identifying a process, prepare a business for every customization.
7. Testing
Now once ERP gets implemented, it is very imperative that the ERP implementation team test all the functions to further examine that all information is precise and working properly.
Functions should be tested with real data to ensure that the systems are working aptly.
Run genuine situations to test for information accuracy.
You also need to sure all imperative interfaces are designed and integration subjects are resolved to confirm the software works in recital with other systems.
ALSO READ: Challenges in ERP Implementation
8. Evaluation
Finally, create a structured evaluation plan that focuses on the purpose and objectives that were set in the planning stage.
A post-execution survey ought to be done after the system has been up.
Detail analysis and evaluation of actual numbers with formerly established benchmarks will disclose whether the software tool performs what it is supposed to do – add value to the business.
You also need to analyze and evaluate the system's performance to make the most of ROI.
ALSO READ: How to choose the best business ERP software solution
9. Project Closure
Having good project closure is important as the project start-up.
Employees should have clear lines of communication regarding when the new system is going live and when the legacy system is being mothballed.
This also applies to the introduction of new business processes.
Communicate properly when the new system is going live and when the old system is being withdrawn.

Prepare to transfer system support functions from the project structure to the ongoing system support structure.

Conduct audit processes and system transactions to ensure that they are working as planned.
ALSO READ: Guide on How Do ERP Systems Work
These days, ERP implementation software is critical to the needs of a business.
An organization can't run properly without impeccably sketched and prepared ERP software.
You should understand the better you implemented; the superior are the results.
The software is a pivotal requirement for all modern-day organizations, irrespective of the size, niches, and business objectives & goals.
By implementing Tranquil ERP software, uplift the productivity of your business.
To run your business in a hassle-free way, you can implement the software solutions as per your requirements.
To know more, just visit the official website.
At Tranquil we have our own robust ERP system that can help boost the overall productivity and efficiency of your organization.To see for yourself how our software works and how it can benefit your organization, do schedule a demo with us at a time of your convenience.