Need of Having HR & Payroll Management Software in SMEs?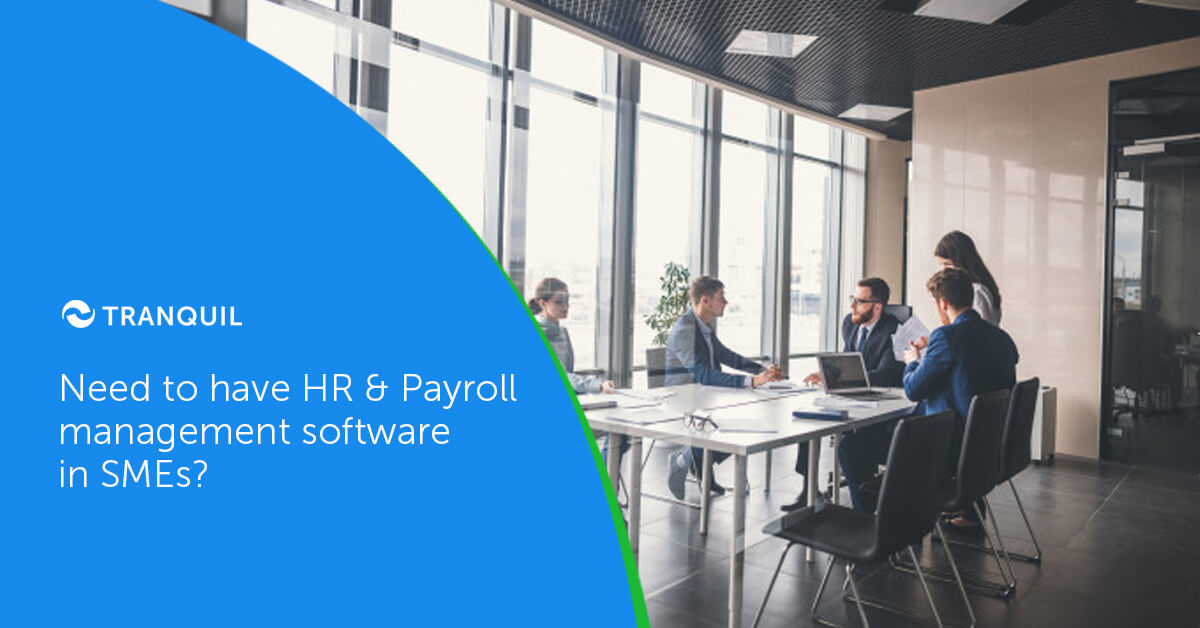 Small businesses are thriving very rapidly over the past few years, but the competition is also higher than ever. HR system and payroll management system plays a pivotal role in the success of any business including SMEs. A survey was conducted by CII and the report claims that 20% of medium and 80% of small enterprises don't want to invest in HR software and payroll software because their budget is a constraint. Hence, most of the time either they are unable to higher the right and effective employees or can't retain the talented ones.
Investing in the right payroll and human resource management software will not only help the organization to run its operations in a hassle-free way but also will help the company to reach the success of zenith. But the way SMEs are handling their HRMS is not at all appreciable. A very little or no attention is paid to the employees and its negative effects will certainly impact on the growth of the organization.
This is why a comprehensive HR management system and payroll software is the best bet that every SMEs should opt for. This software provides a plethora of advantages including improved efficiency, less timeline, accuracy, precision and enhanced productivity. With Tranquil HR payroll software, every employee should be happy when their pay and benefits along with their service records are managed flawlessly without investing much time and effort.
Things you should look for before deploying an HR and payroll management system.
Certain parameters you should check before selecting an HRMS software.
Your Requirements and Need: Always consider your requirements before choosing a human resource management system. Whether you only need the basic HR and payroll functions or you need some advanced features like automating shift scheduler, wage protection, end of service benefit, biometric integration, etc. If you have many office locations, then make sure that the software is web-enabled and can easily access from anywhere and any device.
Other Parameters: Other factors that you also need to think about including after-sales service, implementation support and local availability for any kind of service and support.
Now, many software companies are embracing the clients with cloud-based solutions [software as a service (SAAS)] which are inexpensive and can easily be implemented. With this software, you don't need to invest a humongous amount on hardware and software. You just need to subscribe to the software which will satisfy all your needs and requirements.
Why Do Small Businesses Need HR and Payroll Management Software?
HR and payroll management software has become an integral part of many SMEs. But why do small businesses need this software, let's dig a deeper?
Enhances Payroll Management and Lessens Time: Every month small businesses invest a lot of time in payroll because they find most of the challenges in this segment. HR software makes payroll management easier and saves time and also, eradicates errors which are often committed by the employees. Employee management and payroll software help SMEs in controlling compliance issues, overtime, labor costs and also help the companies to make effective decisions without taking much time. This manager payroll software helps employees to focus on other jobs which require immediate care and attention.
Improves the Recruitment Process: An effective HR management software is very much beneficial for the companies as it makes everything digital and employee-centric. An employee management software helps SMEs to attract the best talents for their companies. Moreover, they can integrate this software with social media sites and other job portals where most of the candidates prefer to view various job posts. It also streamlines the entire hiring process by assisting in the screening, interviewing, and onboarding process.
Extirpate Human Errors: Manual processing creates a chunk of errors including miscalculation in taxes, ignoring taxable items, feeding forms with improper information and much more. And these errors can make a huge penalty for your business. Hence, HR and payroll software is the most important thing that every company should opt for as it helps businesses in avoiding such mistakes.
Reduces Paperwork: Human resource management software reduces a lot of paperwork. It standardizes processes like employment history, personal information, certifications, education, and compensation information. It also saves a lot of time for the employers by gathering and stockpiling all necessary information in one place. This software also protects personal information both from hackers and fraudulent users by encrypting it.
Automatic Updates & Payments: the tax tables and superannuation rates will continue to thrive in every year. It is getting complicated day by day and creates a lot of difficulties for small businesses to comply with it. But if you have payroll software, then it can keep updating its system to stay on top of federal and state requirements. It also saves a lot of time by paying employees electronically during the time of processing payroll.
Real-time Feedback: To retain its best employees, every company should offer the yearly appraisal. But appraisal is becoming obsolete with SMEs. Employees need to be encouraged and appreciated so that they can stay motivated towards the work. HR software management solution offers various tools that help the company's management in offering continuous feedback. The HR software solution also helps managers to connect with their employees quickly and assists them in reviewing the work of the employee. Thus, with this kind of software solutions, SMEs can get real-time feedback for their employees which will help them in making decisions during the appraisal.
Remote Connectivity: Remote working or work-from-home has become the new normal during these days. Many companies and SMEs are opting for remote working especially after this coronavirus outbreak. HR software provides remote connectivity of employees working from various locations. This is quite beneficial for the small and medium-sized companies because now every employee can collaborate on projects from remote locations. Moreover, with this software, they can now communicate with each other instantly. So, an HR and payroll software helps the companies to track on time spent on various projects and thereby ensuring that every employee is rewarded against their effort and work.
Talent Management: to sustain in the competitive environment, the company management must ensure that every employee is skilled enough for their respective jobs. The experienced and skillful employees can easily handle all the job challenges that come their way. The clients are satisfied only with those employees who provide quality work within the stipulated period. HR software solution builds a harmonious work relationship between the management and employees. Moreover, this software improves communication and provides a clear line of expectations between employees and management. Thus, this software plays an imperative role in building a healthy corporate culture by meeting targets, improving brand identity, enhancing visibility and retaining the top clients.
Ease of Use: An HR payroll management system is easy to use which means a person without much proficiencies in technical knowledge can easily use it. This kind of software installation doesn't demand any specialized training or accounting background. With the help of a stable internet connection, a cloud-based HR software can easily be accessed from anywhere and anytime.
Easy Data Retrieval: An HR software can safely store all imperative data related to all business departments. By using simple queries, you can retrieve all kind of information easily. By retrieving individual employee's data, a company can evaluate his/her performance. This information helps the companies to make decisions regarding promotion, demotion, and salary increment.
Saves Money for Small Businesses: an HR software can reduce the ratio of HR work to the number of employees. With this software solution, small businesses now need only fewer employee as work is made easy and fast. In this way, they can make savings on employees' salaries.
These are some benefits of having HR and payroll software. By opting for payroll and HR management software covering all the requirement, small businesses can build a robust foundation for future HR processes.
Tranquil is an established IT company which is specialized in providing payroll and HR software solution. The company offers the clients in selecting the right payroll and HR software which will suit their requirements and needs. The HR and payroll software solution by the company makes the whole human resource process smoother and easier. We at Tranquil are equipped with the best techniques for the software solutions which can save money, time, and effort. To learn more about our company and its products, just visit our official website.
If you want to simplify and streamline your company's human resource process, you should get in touch with us as soon as possible.