Advantages of ERP in the Education Sector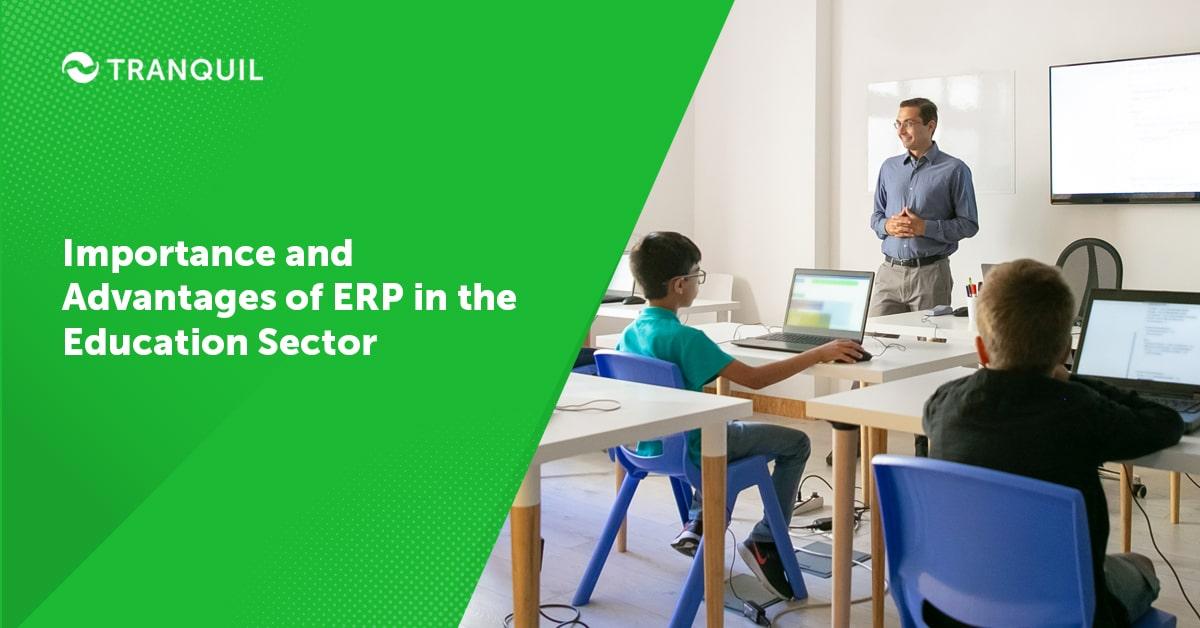 Thanks to rapid technological progress, educational institutions have transformed the way they manage operations and activities.
Older legacy systems have given way to ERP solutions like Tranquil leading to measurable and rapid improvement in administration.
ERP software helps schools and colleges to manage their daily tasks, internal and external resources, control processes like fee payment, library, transport, student enrollments and management, courses and curriculum, exams and results, teacher and other employee management, lectures, and more.
ERP for educational institutions comprises a suite of tools that enables campus modernization and helps to upgrade and manage the various processes that happen every day.
The software connects all the departments, bringing the information to a centralized system, automates processes, eliminates errors and redundant data, and boosts the overall efficiency of the staff.
It must be borne in mind, however, that the management must be aware of the fundamental benefits of bringing automation into the institution.
After all, it is a huge change, and it can be overwhelming – and many of the end-users may be resentful or technically challenged, so it's absolutely important that everyone is educated on its use and advantages.
ALSO READ : Benefits of Software As A Service
The implementation of educational ERP allows all stakeholders to get a centralized view of the entire institution in the dashboard, with all relevant information, at their fingertips, regardless of time or place. With teachers being able to track the progress of students whenever they need to, they can dedicate more time to focus on the actual teaching.
ERP software also helps parents to stay informed about their ward's progress, improving communication among the institution, teachers, and parents.
The admin department becomes more productive and efficient and enjoys time savings thanks to the ERP which streamlines all the processes in the institution.
It also improves the efficiency of allocation and operation of academic resources.
Advantages of Education ERP System
More and more educational institutions of all sizes everywhere in the world are increasingly choosing to implement this technology, because of the following advantages offered by the education ERP system:
1. Simplified Admission Process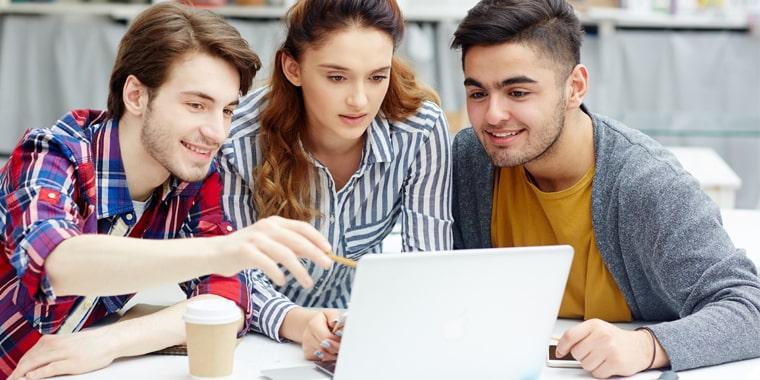 Nearly all of us have gone through painstakingly long and complex admission processes for colleges if not schools.
Applications ask for a number of student details including contact information, grades, subjects, strengths, and more.
It is imperative to check all the details to establish the eligibility of candidates – and needless to say, it can take a significant amount of time.
A good ERP solution simplifies this process by displaying all essential information in a single place, making it easy for the admin to access, and hasten the process.
ALSO READ: Challenges in ERP Implementation
2. Real-time Data Record
In education ERP software, access can be granted to any number of people in a department as deemed necessary.
As the employees of various departments have real-time access to relevant information, they can stay informed about all the improvements or changes that are happening in the institutions.
Real-time data records help staff to deliver services efficiently and on time, eventually enhancing the image of the institution.
3. Automated Fee Payments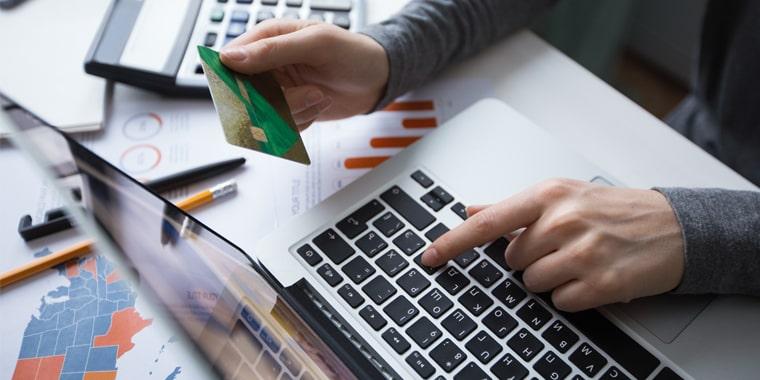 Collecting fees is one of the most essential processes in any educational institute – after all, it is the lifeblood of the organization without which it would fail to function.
Manually checking all the payment records of every student to determine fees paid and pending – was extremely cumbersome and time-consuming.
A reliable ERP for education sector frees the administrative office from this monotonous task, rendering fee collection smooth and quick.
It automatically separates fees collected into different categories and tracks each element in the fee structure, like the amount paid for the library, lab, admission, tuition, hostel, and so on.
This helps students to stay informed about their fee payment status as well.
Automated alerts are also sent by the system to parents to make sure that they are notified in time regarding upcoming or pending fee payments through the official communication channel.
ALSO READ: Benefits of ERP for Accounting and Financial Management
4. Centralized Data Management
Every educational institution has to store a vast amount of information – students, exams, courses, lesson schedules, books -and a whole lot more.
An ERP system brings the entire campus together, centralizing the information to ease data management.
Stored data can be shared among all the departments so that everyone is on the same page, and stay up to date with information and announcements.
ERP affords excellent control of communication both internal and external and ensures that you don't experience a breakdown in communication.
5. Prompt Decision Making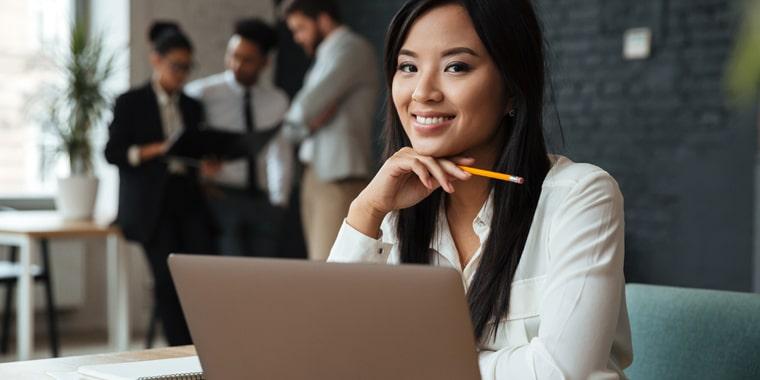 Education ERP software is capable of handling vast amounts of data and generating reports in bulk, to aid in the various administrative tasks like admissions, fee payments, student enrollment, payroll, employee records, student accommodations, and similar.
Being able to access all of this information in seconds means it helps the institution to take critical decisions quicker, and in an informed manner.
This leads to increased productivity, improved performance, and better student services as well.
ALSO READ: Benefits of Mobile ERP 
6. Cost-Effective
Saving in costs is one of the biggest benefits of implementing ERP in any sector, and holds true for the education industry as well.
It automates and streamlines processes, diminishing the need for manual intervention in administrative activities from admission to exam results.
This helps to free up staff from mundane activities and focus on student welfare, improving course planning or other productive activities.
The significant cost savings achieved by implementing ERP in an educational institution can be diverted into providing superior quality education for the students.
7. Faster Management Process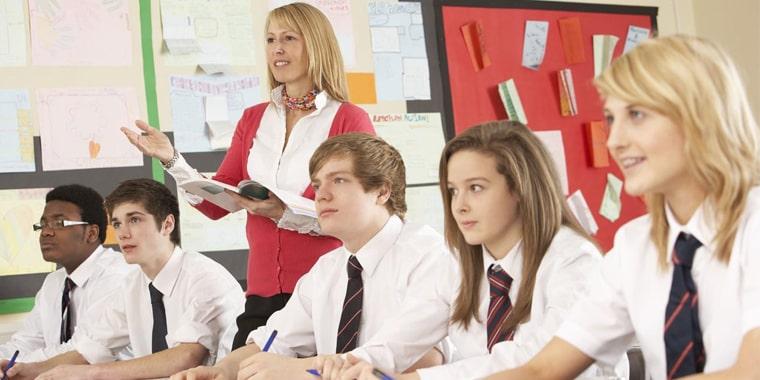 ERP software for educational institutes provides quick, easy access to information from all the departments in an institute, helping the management to get an all-around view of the situation in real-time.
This helps them take data-driven actions that can help the institution to grow.
Hassle-free data access and informed decision-making enable administration and management to craft better strategies for the future.
8. Reduced Paperwork
ERP software digitizes administrative activities, reducing paperwork to a bare minimum.
By connecting all the departments on a single platform, department heads and employees can easily share information, conduct meetings, and make informed decisions, leading to a significant cost saving in paperwork.
9. Improve Resource Management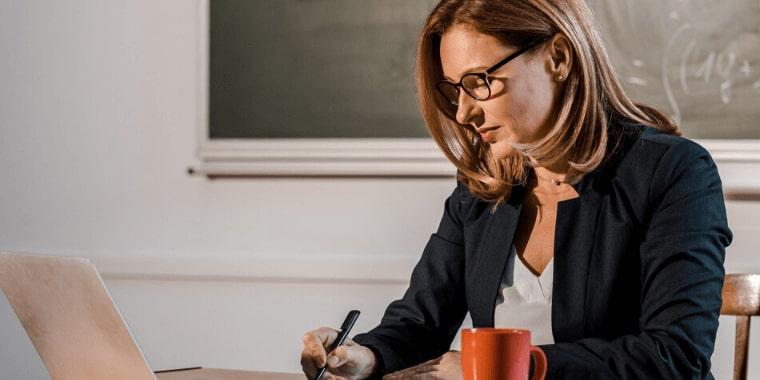 Maintaining resource databases manually can be very time-consuming and monotonous.
However, a robust ERP solution tracks inventory and resources used with the inventory management module like this one in Tranquil ERP.
You will be able to assign resources and activities and monitor them seamlessly, optimizing operations, streamlining daily activities, and resolving issues before they become too problematic.
10. Data Security
An efficient ERP system implements multi-layer security protocols to ensure that only authorized persons have access to sensitive student information and that it can't be misused by mischief-makers.
Unlike manually stored paper files on shelves, digitally stored files cannot be accessed easily and hence offer a higher degree of security – regardless of the volume of data.
The ERP system can store, retrieve, and manage mountains of data in just seconds or minutes, without compromising on security.
It also maintains a backup so that in case of the system crashes, critical information is not lost.
11. Effective Communication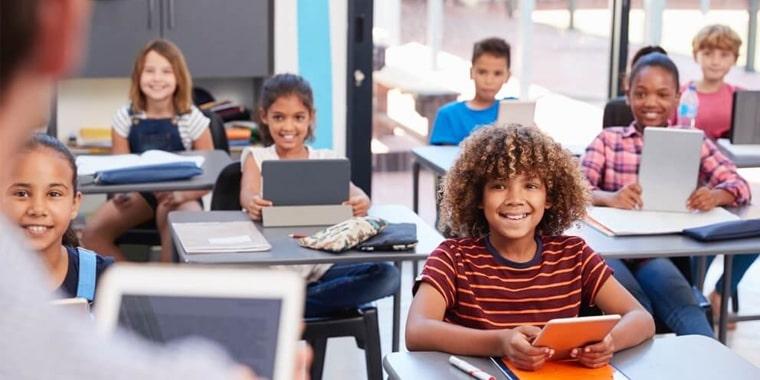 Though there are different ERP modules for educational institutions depending on the unique needs of each institute, it offers individual portals so that every stakeholder can access the updates, notifications, and information that is relevant to them.
For example, the student portal makes it possible for students to check what assignments are posted, upload completed assignments, access lecture schedules or time tables, exam schedules, pay fees or bills for other services, fill up forms or submit details asked for, and whatever else is required.
Parents can access important information regarding fee payment, student attendance, grades, and so on.
Teachers will be able to set assignments or homework, check the completed assignments uploaded by students, post grades and exam results, submit contact information, remarks for individual students, details about courses, schedules, syllabus, and more.
In this manner, the education system ERP helps to improve communication among students, teachers, and parents, keeping everyone on the same page regarding important matters.
By eliminating the need for waiting in long lines, it saves everyone concerned a lot of time, which can be put to more productive use.
ALSO READ: Ways to Improve ERP with AI
12. Increased Teaching Time
We can all agree that the main goal of any educational institution – from primary school to post-graduate course universities – is teaching the students.
With digitization and automation, teachers can be freed up from trivial and time-consuming activities like marking student attendance, maintaining timetables and lecture schedules, distributing assignments to individual students, keeping records of courses, and more.
This time can be used more productively used by them to upgrade their own knowledge, learn enhanced methods for teaching, and provide a higher quality of education to their students.
At Tranquil ERP, we have several years of providing full-suite ERP software to a wide range of industries to businesses and non-profit organizations in the GCC region and elsewhere. Our solution is flexible and can be customized to include modules that serve the unique needs of your industry.
We would be happy to show you how exactly this works, explain everything in detail, and answer all your queries. Schedule a demo with us right away, and we can get started.