Most Important ERP Modules and Features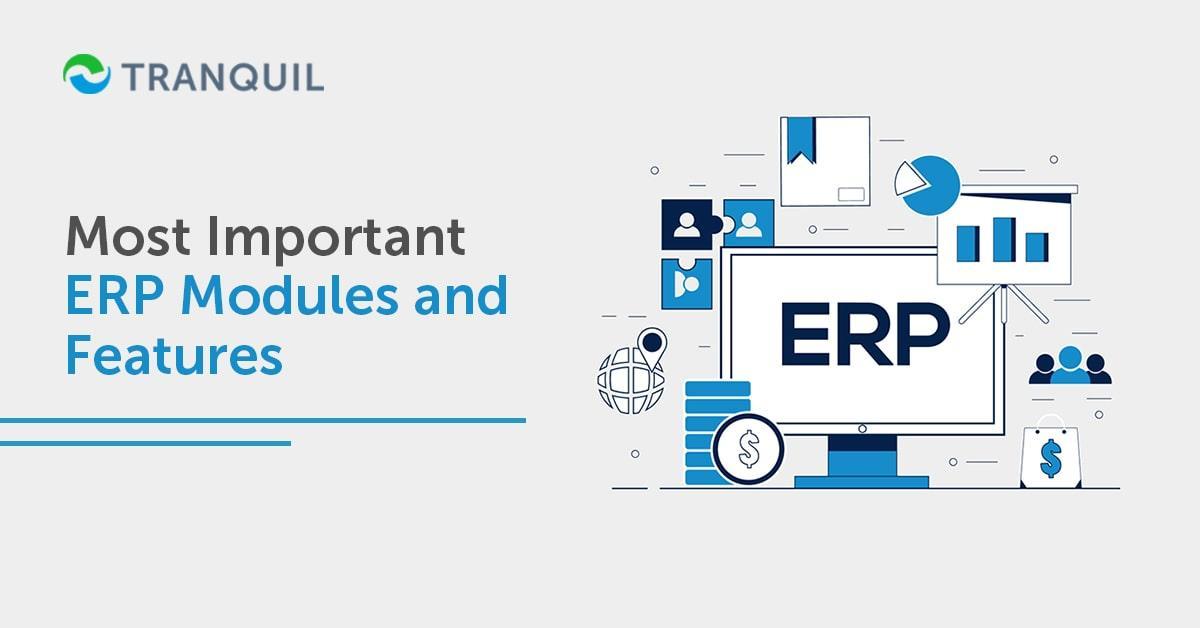 ERP solutions like Tranquil are today indispensable tools for businesses small and big. By automating and streamlining business processes, and centralizing information from various departments, it provides access to all employees to critical data that helps them make informed decisions.
It eliminates human errors and improves data accuracy, saves cost, time, and effort, and frees employees to concentrate on core business activities.
How ERP Modules Help Businesses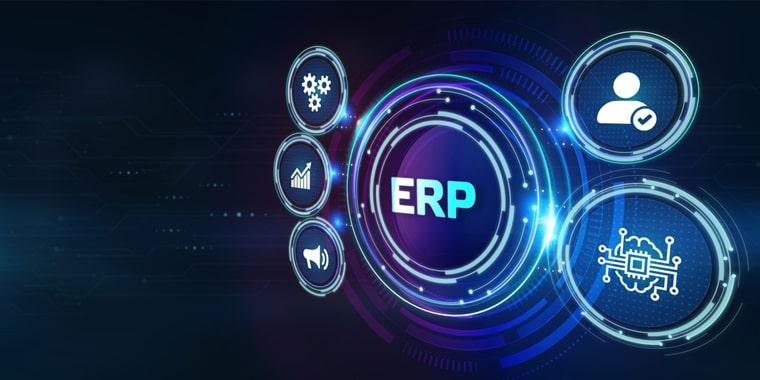 Enterprise Resource Planning modules are designed to handle specific business processes, provide data, and make it easier for employees to complete their tasks.
Financial and critical operational information from every department is brought into a single dashboard, providing real-time access to accurate data.
Modules are the most important components of the ERP system.
As the software is designed in a modular fashion, it is flexible and can adapt and scale to the changing needs of the business – a major reason for its wide adoption.
A company can choose to purchase only those modules that are necessary for their business, and capable of addressing their specific needs and challenges.
New modules can be added whenever required, without implementing a new system.
ALSO READ: Top Trends of ERP System For The Future
ERP Modules and Functions
Let's now take a look at the most commonly available ERP software modules, along with their features and how they help the business.
1. Customer Relationship Management (CRM)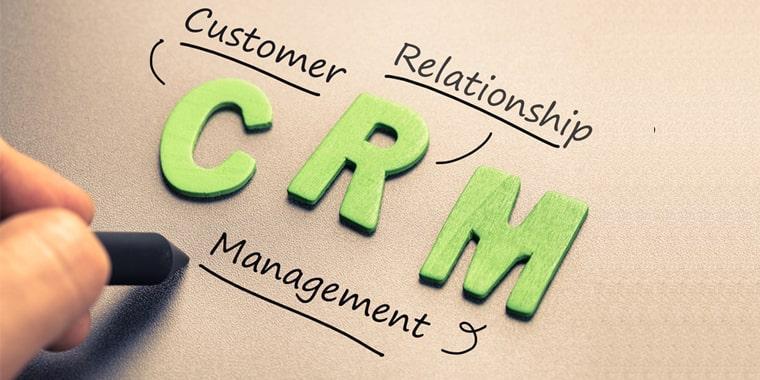 This module stores every bit of information about prospects and customers, including the entire communication records – like calls and emails with the date and time – and the buying patterns.
By giving sales teams critical customer information, the system helps them to provide excellent customer service.
You can also leverage CRM for managing opportunities and leads.
By tracking all interactions with prospects and suggesting which campaigns or promotions should be used for which customer.
ALSO READ: Guide on How Do ERP Systems Work
2. Ecommerce
With the growing popularity of E-Commerce, now Ecommerce is part of ERP system modules, making it easy for businesses to sell their goods and products online.
There are several user-friendly tools that employees can use to add and update the module with items, content like titles, images and descriptions, and more.
Through integration with other ERP modules like inventory, order, and payment, all the information is routed to the central dashboard, with every transaction being recorded.
Items that are sold out are automatically removed, and orders are shipped on time.
3. Purchase
Also called Procurement, this module enables a company to order and purchase the raw materials it requires to produce and sell goods.
It maintains a list of suppliers along with the items, and when requests for quotes are sent, it tracks and analyzes these quotes.
The purchase module assists the purchasing department to draft and send the purchase orders once a particular quote is accepted.
It then tracks that order – checking when it leaves the seller's facility, and then on arrival, updates the inventory.
ALSO READ: How is AI transforming ERP? 
4. Inventory Management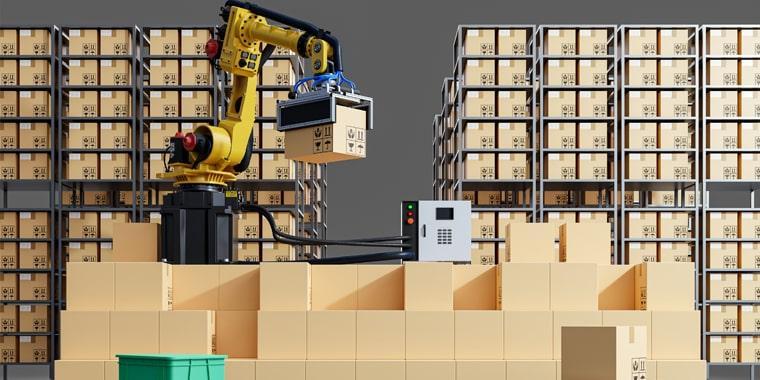 This is one of the most important ERP modules, as inventory is the life-blood of a business.
Inventory can be better managed and controlled with it, as it can track quantities and location of items, right up to specific SKUs, and provides a comprehensive picture of incoming and existing inventory – as it is integrated with the Purchase module, as we saw previously.
Inventory costs can be managed more efficiently, and management can ensure adequate stocks without spending too much.
By evaluating sales trends and checking product availability, helps businesses take actions to sell faster, and increase margins, minimize delays and 'sold out' situations, improving customer service.
It can also be used to manage sales and purchase orders, and shipping, if there is no supply chain management module available separately.
In large organizations, this module can be tweaked to track multi-location inventory also.
5. Finance
As it enables businesses to realize their present financial condition and future prospects, the Finance module is one of the most critical business modules in ERP.
The Tranquil Finance module manages the general ledger, tracks pending payments that are owed and to be paid, generates and stores financial documents like tax statements, payment receipts, and balance sheets.
Tasks like reconciling accounts, vendor payments, billing, etc can be automated, and the accounts department can close the books in time, complying with regulations and industry standards.
The module also helps the Finance department to prepare important reports like P&L statements, reports, and more, as it contains the requisite data.
ALSO READ : Benefits of ERP for Accounting and Financial Management
6. Manufacturing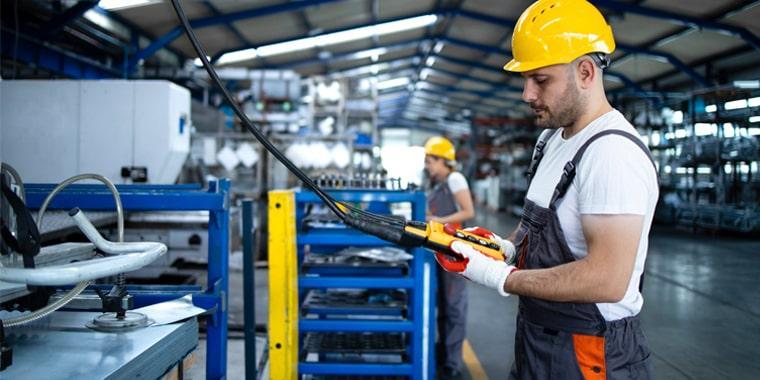 The first ERP solutions were created for the manufacturing industry, and to date, it is an important component of the software.
Most solutions have a Manufacturing or Production management module that makes production planning easy and facilitates smooth and continuous production.
It makes sure that there is sufficient machine capacity and raw materials; it also updates the status of goods being manufactured so that management can measure actual output against the quantity forecast.
Businesses can get real-time information from the shop floor about work in progress and finished goods; the software computes the average production time for an item to compare the supply with demand forecast, helping management to properly plan for sufficient production.
ALSO READ: Influence and Importance of ERP System in Different Industries
7. Warehouse Management
For businesses that run their own warehouses, this module offers a speedy ROI.
It can guide warehouse employees through all the processes, depending on the warehouse layout – starting from stowing goods on the arrival of shipments, to packing and shipping.
Multiple picking strategies like zone, wave, and batch are supported, based on the most efficient one for a business; even the most effective path can be displayed to staff.
Employees can find products speedily, thanks to integration with order and inventory management.
This fosters quick shipments, and fast deliveries – making for happy customers.
8. Order Management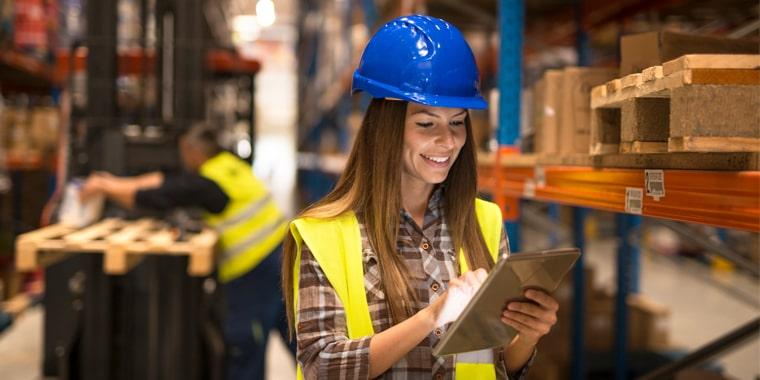 This order management module routes every order to retail stores, distribution centers, or to the warehouse once customers place orders.
It then tracks its status – preparation, fulfillment, and shipping.
This activity ensures that orders don't get lost, and helps maintain punctual deliveries, without resorting to expedited shipping, which incurs more cost.
Sophisticated software can also help businesses decide the best option in terms of cost and speed of delivery (depending on customer location) for fulfilling orders: store, distribution center, or warehouse
9. Project Management
This module is a bit different from other types of ERP modules; project management encompasses the entire organization and not a specific function.
It helps management to break a project down into small, manageable tasks, and assign resources like HR, finance, equipment, Tranquil Project Management module handles everything from employees to customers and schedules to invoices, ensuring that tasks are completed within deadlines.
It does the following tasks:
Estimates – allows comparison of current project cost against quoted value
Activity – track tasks, schedule employees, record billable hours, send invoices, order materials, and more
Costing – keep track of all expenses of projects, jobs, and tasks, to understand current profitability
Schedule Staff – assign tasks, and automate salaries of employees
Job Activity – view all data regarding individual jobs, like materials used, recording billable hours, scheduled employees, etc
10. Supply Chain Management
You can track every step in the movement of goods and supplies from start to finish within the supply chain.
The module can also handle products returned to the vendor for replacement or refund.
Though typically it includes multiple functions like purchase, manufacture, order, and inventory management, it is capable of a whole lot more.
ALSO READ: Benefits Of ERP In Supply Chain Management
11. Human Resources Management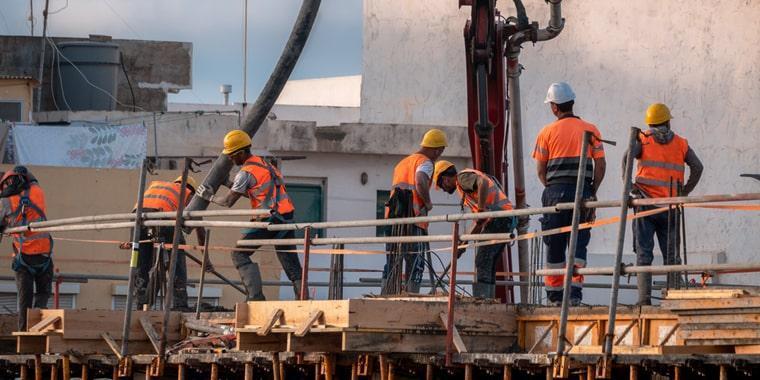 HR management is similar to CRM, but only for employees.
It contains detailed information on employees and related documents like appraisals, offer letters, employee benefits, etc., and tracks hours worked and paid leaves, sick leave, and so on.
It helps eliminate inaccuracies and duplication of data, which happens when you have this information stored on multiple spreadsheets in the absence of an ERP solution.
12. Marketing Automation
This is a relatively new entrant into ERP solutions, and it helps handle marketing campaigns across various digital channels like SMS, web, social media, and email.
Based on customer segregation and campaign rules, it can automate the sending of relevant email messages to customers.
Marketing automation also delivers detailed reports on campaign performance, which helps businesses to decide about future marketing strategy and expenditure.
It helps to boost customer loyalty, increase leads, and eventually, sales and revenue.
Which Modules do you Need?
When it comes to choosing the ERP modules and ERP implementation for your company, you need to consider your business model, industry, the challenges you are facing, your goals, and your budget as well.
Certain modules are necessary for almost every business:
Finance – to monitor financial health and ensure timely payments
CRM – to improve customer service
HR – to ensure employee tracking, timely salary payments, tracking progress, rewarding deserving employees, etc.
Supply Chain Management – for any business dealing with products, whether it is manufacturing, or retailing – or even distribution
Project Management – for consultancies, service and repair companies, agencies, as it helps get quick ROI by automating complex processes
Other modules depend on the individual businesses – as we saw before, warehouse management is essential for companies that run their own warehouses; Ecommerce for those keen to sell online and want to push it in a big way, and so on.
Eventually, you also have to consider your budget – how much can you spare, how much you are willing to invest, and what returns you expect to get on the investment.
You can always start off with basic modules, and add the ones you feel are necessary for your business, as you grow.
If you'd like to see for yourself how Tranquil ERP works and how it can benefit your system, schedule a demo with our team. We will explain in detail and answer any queries you may have.
Tranquil is a prominent cloud-based ERP software system that helps you to manage your projects and business work in a hassle-free way. Moreover, with this software, you can access your business data anywhere, any time. If you want to manage an ERP software system, you can get in touch with Tranquil software.