How to Manage Your Business from Home in Pandemic Situation?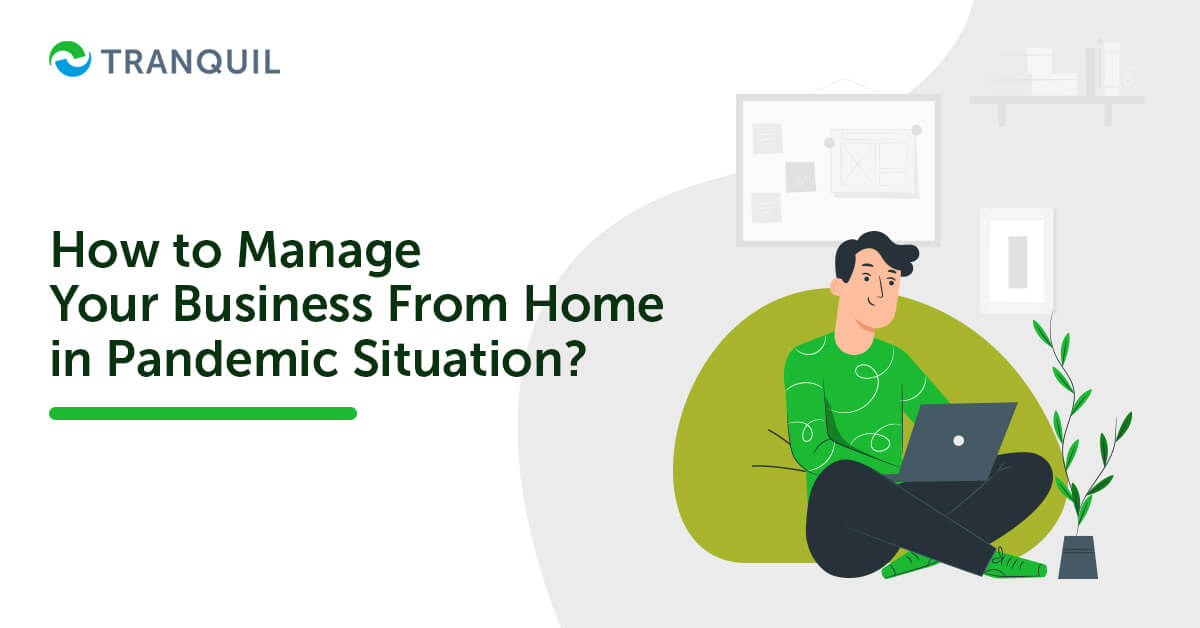 Over the past year, we are trying to cope up with this covid-19 pandemic.
As a result of the pandemic, many businesses are adopting new practices and are innovating in new ways when it comes to working remotely.
Companies are acquiring new technology, flexibility, and overall resources so that they can quickly transform their employees to a work-from-home and remote setup.
This "new normal" may bring a plethora of challenges to the companies that don't have adequate resources and previous experiences of work-from-home.
ALSO READ: Detailed Guide on Covid 19 and Cloud Migration
Working in the Age of COVID-19
This new way of working may bring an array of challenges including interferences from children at home, lack of consistency with team members, and an enhanced chance of miscommunication.
But things that you can adopt to run your business in a hassle-free way when working remotely.
Equip teams with the right technology (ERP management software)
Manage remote employees by communicating frequently without compromising transparency.
By creating various opportunities for social interactions, you can maintain engagement and enhance the productivity of your team.
Covid-19 Issues in Saudi Arabia
The covid-19 situation is very alarming over the past few weeks as many countries are suffering from the second wave of this pandemic.
Though in Saudi Arabia, the situation is much better than in some countries, still, strict restrictions are imposed all over the country.
People are using masks, sanitizers, and are maintaining social distancing to curb the spread of the infections.
Most of the companies are following Covid protocols and are operating their businesses from home.
To maintain all their operations smoothly, companies are implementing new technologies like cloud-based ERP.
ALSO READ: Important ERP Implementation Questions to Ask
How ERP Implementation Benefit in this Current Situation?
Leveraging enterprise resource planning (ERP) systems can help businesses automate core processes, manage intricate systems with adherence to internal controls, gain real-time visibility into their operations through better reporting.
By better using technology, companies are also saving a lot of money.
Improve Security and Meet Compliance Standards
As expectations are changing hurriedly, many companies are experiencing pressure from regulatory reform i.e., the need to produce new products simultaneously to get attention from the customers, protect their existing operations, and meet evolving marketing standards.
Many companies are investing a lot of time and resources in monitoring data protection.
This helps them to determine if they are meeting compliance standards or not.
Automated ERP solutions encourage a company to conduct these analyses uninterruptedly and automatically from a single system.
ERP solutions are also protecting imperative data from data breaches and cyberattacks, thus, allowing companies to meet industry best practices.
ALSO READ: Detailed Guide on ROI on ERP Implementation
Consolidate IT Process
A cloud-based ERP solution can consolidate many IT systems that need to support and establish up-to-the-minute reporting.
Though employees are working from various locations, helping IT support will ensure that the work progresses effectively.
Can Access Intelligent Financial Data in Real-Time
By leveraging the automation possible in modern ERP systems, businesses can get clear, relevant, and real-time access to metrics and reports that are key to their organizations.
A modern ERP platform's reporting and dashboards encourage multiple users to review their financial data continuously through:
A single shared database
Role-specific real-time reports
Insight into key performance indicators (KPIs)
Ability to view summary information and drive down to transaction-level data in a few clicks
Saves Money and Resources
If a company can access refined and real-time data through an automated ERP solution, this can help the company to become profitable in many ways,
Minimize cycle times
Close its books faster
Modernize the quote-to-cash process
ALSO READ: Future ERP Trends
Implementation of Project Management Software
When you are working remotely especially in this covid situation, project management software tools play an imperative role.
By using these software tools, you can easily track the progress of your project, can get the daily report, and can also continue the work with the same zeal and passion.
Project managers sometimes find it difficult to keep their teams united and under control unless they have the right setup.
But the market is thronged with many efficient project management tools that help you to control everything under one single roof.
Let's take a look at how project management is beneficial when you are working remotely during this covid situation.
Transparent Objectives and Process: A survey was conducted by the Keltron group in 2018 and as per them, 87% of workers want their future employer to be transparent. Teams feel more motivated and work smoothly when they are not left in the dark. Project management tools help you prioritize your work and make sure everything is visible to all team members.
Communicate Project Progress Regularly: Poor communication is one of the common factors among remote teams that kill productivity. With project management tools, now, you can create detailed project plans and outline what results expected and guidelines for your remote team. Each team member can communicate and share the information with the rest of the team.
Access to Internal Knowledge: Remote environments create barriers for businesses to share knowledge with their teams. But with project management software tools, you can easily identify subject matter experts and make their skills known to the rest of the team.
Set Clear Agenda Before Every Meeting: Setting clear agendas for virtual meetings plays a pivotal role in the success of any remote team. With the help of a project management software tool, you can get feedback in advance from participants. Now, you can discuss those points at the meetings. Even you can conclude every meeting with a clear call to action of tasks that needs to be completed before the next meeting.
ALSO READ: Advantages of ERP to Automotive Businesses
Sales and Order Management Software Uses
When you are working remotely to cope up with covid, you need to manage every operation or function of your company effectively.
Here, comes sales and order management software solutions that used to control the process between a customer placing an order and the product going out for delivery.
This type of software track sales, stock, and fulfillment.
It also ensures that all the processes and people in-between are kept well-informed and up-to-date.
A good order management software must possess the below-mentioned qualities.
Irrespective of channel origin can accept an order.
Effectively handle offline sales for a quick quote to order process
Organize and manage orders for the warehouse picking team and delivery team
Update stock levels across all systems (even takes care of your online sales channels)
Track all the order processes for customers and employees
Handle intricate pricing structures so all channels and customers can receive competitive pricing
Communicate with the sales team of the company.
Integrate with all other business processes including accounts, payments, invoicing
By using an order management system, now, you can get real-time updates of your stock without using papers.
ALSO READ: Benefits of Blockchain in Cloud Computing
Future Benefits of SAAS Products by Analyzing Last Year
Nowadays, companies are employing various software systems to run their business operations fluently under this pandemic while working from home.
SaaS is the utmost solution that has become a very popular method of delivering many businesses application that is working remotely.
The demand for this software is surging every day over the past year. Some future benefits of this software include,
1. Cost-Effective: 
A company can save a lot of money by implementing SaaS.
Because it eradicates the upfront costs that a user needs to pay for purchase and installation.
With SaaS, now no longer need to invest in hardware resources.
2. Time Management:
With SaaS, you don't need to take care of maintenance as everything is taken care of by the SaaS vendor.
This saves your time and energy.
ALSO READ: What is Zero Inventory and Why it is Important?
3. Scalability & Accessibility: 
SaaS software solutions can be easily accessed from anywhere in the world.
By using SaaS, users can access all data and work proficiently from anywhere.
This software is ideal for home workers.
4. High Compatibility:
With SaaS, a user can log in to the latest upgraded version of the SaaS solution.
The SaaS vendor is responsible for managing updates and upgrading the software.
SaaS offers end-users to access the most up-to-date version of the software.
5. Amplified Security:
If you want to keep all your business information safely even working remotely, then SaaS solutions would be your perfect choice.
Because this keeps your information safer than traditional software.
ALSO READ: Implementation of ERP for Steel Industry
6. High Adoption Rates:
Since SaaS solutions are delivered over the web, hence employees are accustomed to this software as they are already used to working on the internet.
Running your business from home during covid is a great way to have a work-life balance.
This will also lessen your cost and will also help you to survive in the harsh period.
But you need to implement the right technology that will help you to manage your business effectively even in this tough situation.
Tranquil is a prominent cloud-based ERP software system that helps you to manage your projects and business work in a hassle-free way. Moreover, with this software, you can access your business data anywhere, any time. If you want to manage an ERP software system, you can get in touch with Tranquil software.