How Cloud-ERP Software Helps Saudi Businesses?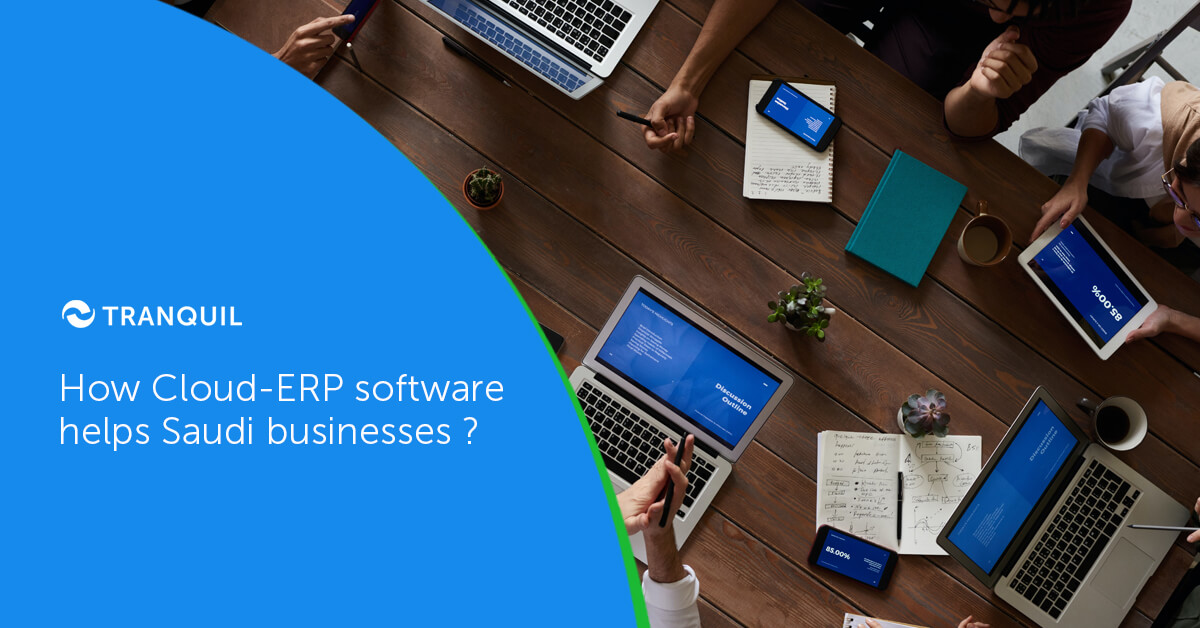 The role of ERP is undeniable in today's business world because this integrated system helps a company to store all their imperative information of all departments, processes, operations, etc. safely and securely.
The prime objective of an ERP software is to integrate all the business process and operations (including accounting, marketing, manufacturing, human resources, and so on) and this way it enhances the productivity and efficiency of a company.
But a business needs to invest a chunk of money and effort for planning, training, and implementation of a sophisticated ERP system in the company.
Since the Cloud-based ERP system has penetrated in the market, so with the help of it even a small or medium-sized company can adopt a sophisticated ERP system for their betterment.
And most importantly, for this Cloud-based ERP implementation, the company needs to invest only a fraction of the cost with minimal resources.
Accounting plays a pivotal role in any business because it represents the financial status of the company in front of its contenders.
ALSO READ: Guide on Tips to Choose the Best Manufacturing ERP Software
You can consider accounting as a system which helps the organizations to take the right and effective decisions by measuring and summarizing business activities.
But many small and medium-sized companies in Saudi Arabia needs to focus on their core business activities so that they can sustain in this steep competitive market.
Moreover, they don't have adequate resources to manage accounting activities professionally.
Here enters the Cloud-based accounting ERP software which enables taking data off of paper and out of spreadsheets and into the cloud.
These cloud accounting software solutions help Saudi businesses to opt for cloud-based ERP solutions for the betterment of their businesses.
Cloud-based ERP account software simplifies your manual workflow, extirpates errors, and helps the employees of Saudi Arabian companies to focus on their core business activities which can help them to thrive in the market.
Finally, the Cloud-based accounting ERP streamlines all intricate and complex processes by automation.
These software solutions also help you to save a chunk of time which you can invest in another way.
Companies which are adopting cloud-based accounting software require less initial server infrastructure to store data.
Moreover, they don't need much IT staff and manpower to maintain it or update the cloud accounting system.
With fewer overhead expenses and no new software purchases, this cloud accounting software saves a lot for the businesses.
But for the rest of the world, the scenario is completely different.
When a company grows, they need greater software license and higher maintenance costs as well as new licenses and fees for database, systems management and other software solutions.
ALSO READ: How Do ERP and Cloud Computing Differ? 
Best Accounting Software in Saudi Arabia
The market is very throbbing in Saudi Arabia and hence, companies (irrespective of their sizes) are trying to use the best accounting software in Saudi Arabia so that they can stay ahead of their competitors.
Choosing good and effective accounting software is a tedious job for all entrepreneurs in Saudi Arabia.
Small and medium companies that decide to keep records of their own business independently need an accounting cloud project management software that will save time and also lessens the costs.
Choosing the best online accounting software for your businesses could be a very daunting task, as the suitability of one or the other applications depends on a plethora of factors, especially user needs, preferences usability, and compatibility with other programs.
ALSO READ: Influence and Importance of ERP System in Different Industries
How to Choose a Cloud-Based Accounting Solution for Your Business in Saudi Arabia?
Not every company in Saudi Arabia owns an accounting ERP, but most of the medium and large companies have an accounting ERP.
At the initial stage, all the companies face a dilemma about whether to develop their own ERP or use an existing one on the market.
The recent trend suggests that most of the companies are willing to prefer the use of existing ERPs in the market.
They usually integrate some additional modules (specifically needed for the company) to the existing one.
Still, many companies in the market that use own ERP.
ALSO READ: What is Negative Inventory and How Can you Prevent it?
Once the company has chosen an accounting ERP (either own development, or from the existing one in the market), the next difficult stage is to implement the ERP within the company.
An ERP is a form of work and organization of data that will have to adapt the employees and executives of the company.
To choose an ERP accounting solution, a company must consider various factors like the degree of specialization, the size of the organization, the scalability of the ERP, security and many more.
Most Used Accounting Software in Saudi Arabia?
Are you looking for the most used ERP accounting software in Saudi Arabia?
There are many ERP companies in Saudi Arabia who offer the best ERP accounting solutions to the companies.
The most used accounting software solutions in Saudi are Tally solutions, Peachtree, Solution Dot, SAP, Oracle, Tranquil and Infor LN.
ALSO READ: What Are the Different Ways to Improve the Procurement Process?
Advantages of Cloud-Based ERP Software Solution
Cloud-based ERP solutions have a plethora of advantages over other solutions.
That's why businesses in Saudi are opting for these software solutions.
Let's check out some of the advantages of ERP software solutions.
Budget-friendly: These software solutions are quite affordable which means they will never burn your pocket. These software solutions are ideal for small and medium-sized companies where budget is a constraint.
Access anywhere: You can access this software anytime anywhere with any device. This is the key feature that today's businesses demand. Cloud manages everything without a glitch.
Increase productivity: This software helps you to collaborate with all. And thus, it automatically increases the overall efficiency and productivity.
Scalable: This solution is highly scalable which means you can do any changes or add new technology seamlessly as the business grows. This can be done quickly when required without engaging the resources.
ALSO READ:  Benefits of Integrating E-Commerce and ERP
Is Your Data Secured with Cloud-Based Accounting Software?
Cloud-based accounting solutions provide a secure method of storing all imperative financial information than other solutions.
For example, if a company owns several computers or laptops which are thronged with critical financial information, then this could be lost or stolen.
If this happened then it can lead to an information breach.
On the other hand, cloud-based accounting leaves no trace of financial data on computers or laptops of the company.
All crucial data that is stored in the cloud is encrypted and password protected.
ALSO READ: What Is Cloud Data Protection?
Sharing data is now a simple and facile job.
With cloud-based accounting, two people need access rights to the same system with their unique passwords.
Lastly, cloud providers usually possess backup servers in two or more locations.
If one server network goes down, you can still access your data.
The information which is stored in the cloud can only be destroyed or damaged in a fire or natural disaster.
Now, you have enough idea regarding how cloud-based ERP solutions help businesses in Saudi Arabia to proliferate in the competitive market.
ALSO READ: What are the Reasons for ERP Failure?
Tranquil is a prodigious IT company which offers the best cloud ERP Saudi Arabia. The company embraces its clients with a wide range of ERP solutions including project management, inventory management, accounting management, procurement management, HR & payroll management and many more. The company is serving its clients ardently for more than 12 years and helps the businesses to run their operations in a hassle-free way by using various ERP solutions. To know more about our company and its products, just visit the official website.
If you want to kickstart to your businesses by using various ERP solutions, you should get in touch with us without wasting any time.