Influence and Importance of ERP System in Different Industries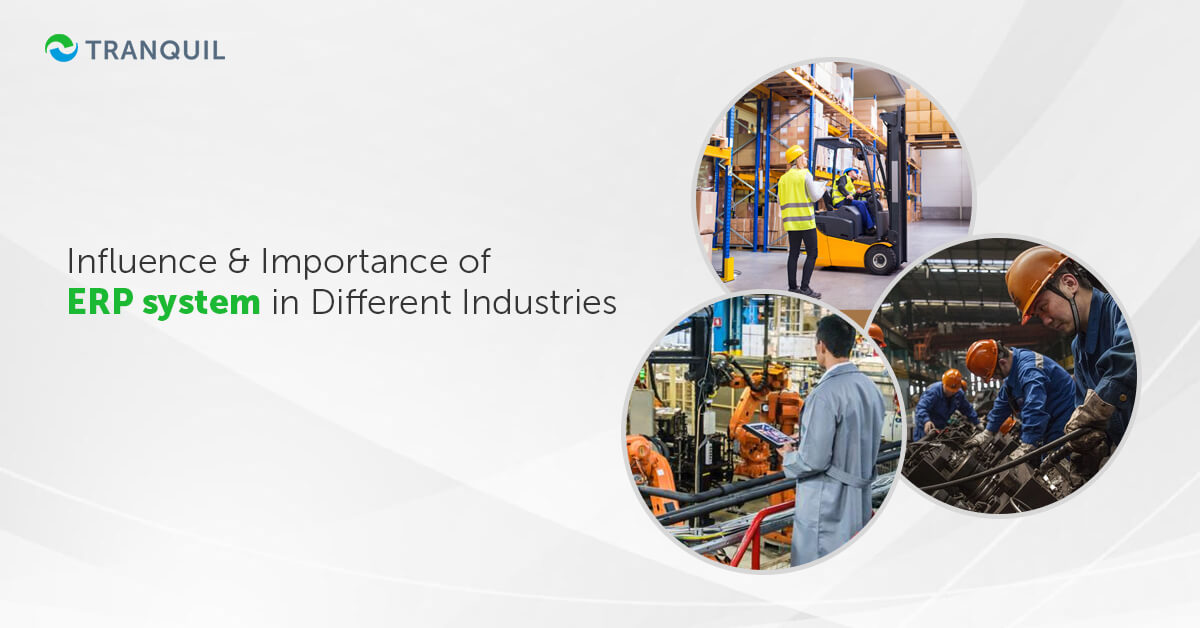 Enterprise resource planning is a buzzing word over the few years that has penetrated every sphere of businesses.
Enterprise resource planning system software is a customized application that allows businesses to integrate and manage their imperative processes under one roof.
So, in a nutshell, an ERP system in business is a software tool that centralizes a company's database of information, automates tedious tasks and streamlines business processes.
The prime goal of using enterprise resource management software tool is to optimize various business operations and free up employee time which they can utilize in other ways.
In earlier days, ERP software systems are welcomed by big companies because these systems are expensive to run.
But after knowing the benefits of an ERP system, many companies (irrespective of their size and nature of business) are adopting the best ERP software systems to run their businesses in a hassle-free way.
These days the top ERP software systems are highly used by various sectors including manufacturing, healthcare, retail, oil & gas, construction, and government sectors.
By using ERP systems, every company is trying to find out the best solutions which will meet their business needs and help them to thrive in this competitive market.
Impact and Influence of ERP in Various Industries
Manufacturing Industry
ERP software has a plethora of benefits in the manufacturing sector.
By using a cloud-based ERP, a company can manage various departments like finance, purchasing, production, etc. with ease.
A study was conducted by Aberdeen Group and it was found that 48% of manufacturing companies claim industry-specific ERP software systems are helping them in doing business more efficiently.
Benefits of ERP for the Manufacturing Industry

Automates and Streamline Various Business Processes:

by using ERP software systems, manufacturing companies can streamline their business processes. Now, all imperative data is available in a centralized location that can easily be accessible and will give you an idea about various (development, designing, inventory, procurement, production, finance, sales, delivery and more) departments. Moreover, any person can monitor the production status in real-time without depending on another person or team. An ERP system enhances proficiency, improves productivity and helps companies maintain a healthy relationship with the clients. Since ERP makes every process automated, the company now reduces its dependence on manual processes.

Business-Driven Decisions:

A comprehensive ERP software solution for the manufacturing industry improves the decision-making capacity of a company. By providing thorough insights and visibility into every department, this system helps companies to make robust and business-oriented decisions. Moreover, ERP software helps manufacturing companies remain aligned to their goals and take necessary internal decisions if required.

Reduce Cost:

ERP software helps manufacturing companies to lessen their overall operational costs. Because now time-taken jobs are replaced by automated and streamlined processes. This will give you real-time business information which will improve productivity and efficiency. By enhancing worker productivity, the ERP software for the manufacturing industry curtails labour expenses, and improved precision and lower error rates.
ALSO READ:  Why is ERP System For Automotive Industry Important?
Improve Customer Satisfaction:

Exact production planning, improved control over inventory, streamlined process scheduling, and well coordination between distribution channels enables manufacturers to improve on-time delivery of products. Delivering products on time is a crucial parameter to maintain a good relationship with your customers. And, this will certainly satisfy your customers and they will remain loyal to your company.
These are some of the benefits that a manufacturing company can get by adopting an ERP software system.
ERP in the Healthcare System
The healthcare system is burgeoning rapidly day by day and ERP software solutions are making a huge contribution to this growth.
Here, we are mentioning how ERP can benefit healthcare and related industries.
Improved Patient Safety:

Patient safety is the prime concern for all healthcare companies. An ERP software system improves communication between the patient and clinics and makes it more transparent.

Easy to Access Medical Record:

when a patient makes a call to the clinic for seeking medical attention, the clinic must be able to pull up that person's record immediately. That's why many healthcare companies are transferring all their paper-based and manual systems onto the ERP software system. This system helps them to access all the data they need by using a single click.

Patient Confidentiality:

All medical records and data of the patients are confidential. A data breach will not only tarnish your market reputation but also will misuse this data. So, if you move all the records onto a good ERP software system, you can set advanced user controls that can be accessed by only authorized personnel.
ALSO READ: ERP Implementation in Agriculture Business
Cost Reduction:

The ERP software system helps healthcare companies to reduce the hospital's operational costs. The management can lessen the incurred costs caused by inventory and administrative errors. Because an effective ERP software system can monitor finances and inventory levels precisely. Moreover, ERP software also optimizes multiple operations at the back-end, like accounts, payroll, and inventory management.

Strategic Planning:

ERP is an imperative tool that will identify the areas where improvements are needed and necessary. This will certainly improve the overall effectiveness and efficiency of the organization. If problems are identified, then management can easily monitor whether the changes that will be made will be effective or not.
ERP in the Retail Sector
ERP has become an integral part of the retail industry.
As competition is rising day by day, ERP solutions are helping the retail businesses to sustain in the market ad also helping them in satisfying the customers' need.
Let's dig deeper into how ERP is beneficial for retail businesses.
Better Inventory Management:

inventory plays an imperative role in any retail business. If you can control it, then you can stockpile enough to meet anticipated orders. An effective ERP software addresses this challenge very easily. An ERP system stores detailed information about every product that is available in stock. This will ensure customers to know exactly what items are stored in the inventory and what needs to be re-stocked. Moreover, this tool helps you to identify your customers' interest by analysing his/her buying trends in the past. Thus, you can modify your inventory as per your customer's demands.

Integrates Multiple Channels:

Retail business owners often need multiple channels functioning simultaneously to ensure all operations run in a hassle-free way. An ERP system for retail integrates all these channels into a unified platform. This allows various departments to share information in real-time.
ALSO READ: Importance of ERP Software in Textile Industry
Automate Sales and Payment Recording:

POS system automatically records all sales transaction details; thus, it minimizes human errors and extra effort. An ERP software system that is integrated with a POS tool makes sales transactions faster and easier. By using this software solution, retailers can minimize customers' waiting time for purchase billing. Moreover, this system also provides real-time data.

Effortless Pricing and Discount Management:

Retail business requires a dynamic pricing system. This can be a tiresome job if you do this manually. A robust ERP solution can automate the process of recording the price of products along with discounts available on them. This makes the entire process simple and effortless.
ERP in the Construction Industry
The construction industry is challenging and competitive.
An ERP software solution provides a plethora of advantages from planning, project control, to cost and revenue estimation.
Proper Planning and Analysis:

Improper planning not only leads to substandard completion of projects but also tarnish the reputation of the construction company. Builders can suffer from heavy losses in the form of labour costs and may lose clientele due to untimely completion of projects A construction ERP software can be implemented that can control all the expenses and budgetary allocation. This may also help in avoiding unnecessary downtime and contractual issues with clients.

Streamlines All the Data:

Reputed construction companies often need to handle more than one client at a time. As a result, the exchange of information within the organization can become dreary and time-consuming. It's a cumbersome job for the employees to manage and compile data (either in the form of individual excel sheets or Power point presentations) for multiple assignments. If a company needs to use different software solutions for multiple operations at the same time, then this can lead to an ineffective exchange of information among various departments. A construction ERP software solution manages all these tasks effectively.
ALSO READ: Does the Real Estate Industry Need ERP Software?
Estimates Construction Cost and Revenue Generation:

Usually, construction companies work on a contractual basis with their clients. An Enterprise Resource management software will help them to determine accurate estimation that is required for raw materials, designs, labour, and the duration of the time. This will help the companies to calculate the actual costs that will not deviate much from the projected costs. Apart from cost estimation, the construction ERP software also allows developers to find out how much profit or loss they get from a project. This way, they will calculate the cost and time for future projects more wisely.

Enhancing ROI:

ROI can also be measured in the form of other benefits. Every developer wants to increase their ROI from time to time. ERP software will help them to achieve this thing. ERP software helps construction companies to eradicate manual, time-consuming and labour-oriented processes. It also helps them in controlling expenditures in terms of raw materials and employees, minimizes IT costs, lessens unnecessary time, and thus, allows them to meet project deadlines.
ERP in the Energy and Oil & Gas Industry
As the demand for energy-related and oil & gas products and services are increasing exponentially, energy manufacturing companies are realizing the needs for ERP software. This kind of software makes operations smoother and more efficient.
Easy Integration:

ERP software systems are designed in such a way that they can easily integrate with third-party applications in terms of cost and schedules. This helps companies to manage resources and overall costs. Moreover, this kind of software also allows companies to meet deadlines and deliveries.

Efficient Project Management:

By using the top ERP software systems, the companies can effectively manage both their onshore and offshore projects. They can easily manage all parameters including schedules, finances, inter-department communication, and resources. This helps them to complete the project within the time and budget.
ALSO READ: Benefits of ERP for Chemical Industry
Risk Management:

By using efficient ERP software, construction companies can identify project risks well in advance. Moreover, they can also get in-depth information on the potential success of a project. The software also embraces the clients to come up with exigency plans in case of emergencies.

Provides Assistance in New Employee Training:

When a company hires new engineers, ERP software systems can be used to ensure that all the critical and imperative technical information is passed on to the novice employees. This software can integrate the new employees into the whole energy exploration, production, and monitoring process.
ERP in the Government Sector
Unlike private companies, the public sector organizations and government bodies are also impressed with the features of ERP.  It improves efficiency, reduces cost, increases transparency, and provides better security.
Cost Savings:

As per the Gartner studies, half of the public sector companies are using cloud-based ERP solutions to save money. ERP solution minimizes the total cost, significantly reduces implementation times and provides better integration with other systems.

Strategic IT Implementation:

ERP systems are helping both state and local government with the technology which will improve many things like how they utilize their budget, how they allocate their resources, and how they respond to demand. Now, blockchain, artificial intelligence, machine learning, and augmented reality are entering the government agencies and thus, these technologies are refurbishing their operations and other processes.

Increased Data Security:

Cybersecurity is a prime concern for both state and local governments. The governments are taking every possible step to minimize the risk of data breaches. Using ERP systems, the public sector can implement world-class security and threat protection services.
The above article gave you an idea about the impact and influence of ERP in various sectors.
ERP systems can bring several improvements in multiple business areas, so companies should adopt ERP solutions to run their businesses effectively.
Tranquil is a prominent cloud-based ERP software system that helps you to manage your projects and business work in a hassle-free way. Moreover, with this software, you can access your business data anywhere, any time. If you want to manage an ERP software system, you can get in touch with Tranquil software.