Difference Between Business Intelligence and ERP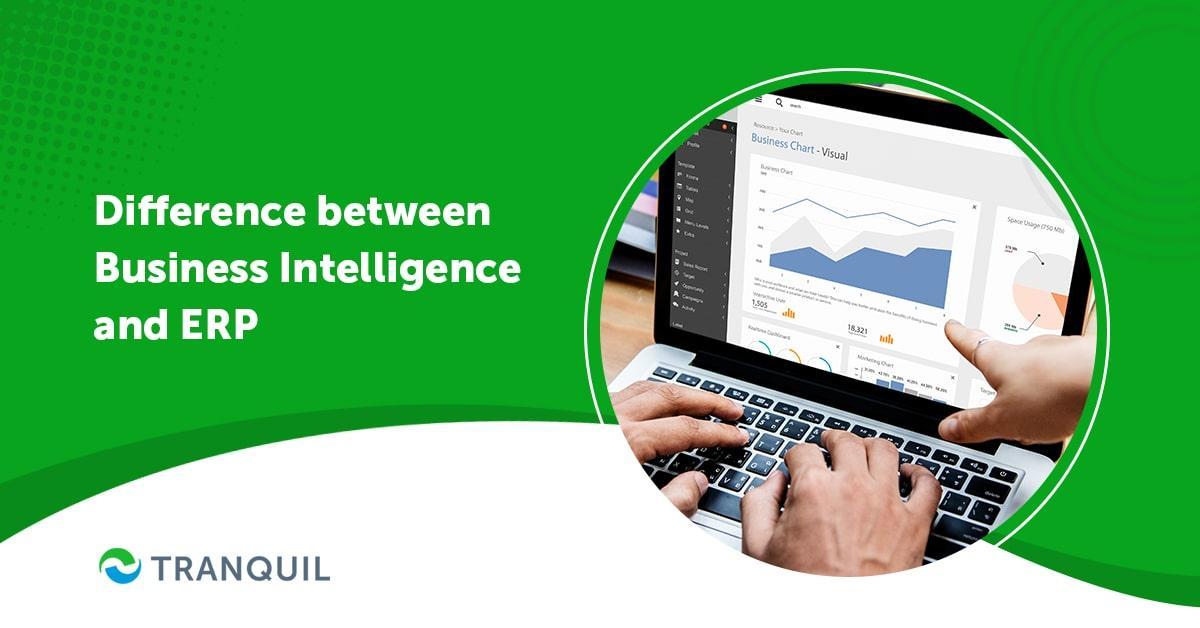 ERP and BI – we hear these terms being bandied about quite a bit; sometimes they are interchanged because not everyone is aware of what they exactly mean and do.
Both are important for a business that is serious about growth and expansion.
In this blog, we'll see why, and what the two do, and how they differ.
ALSO READ: Influence and Importance of ERP System in Different Industries
What is Enterprise Resource Planning (ERP)?
Most departments in a business have their own software, optimized to streamline its specific functions and simplify the operations there.
However, disparate systems often lead to confusion, and having data all over the place makes it difficult to collect, not to mention, the chances of redundant data are pretty high too.
An ERP application like Tranquil is like a combination of multiple systems in a single, unified solution, with modules to handle the operations of various departments.
ERP software automates business processes and centralizes data, providing real-time visibility into the entire organization and providing clean, up-to-date data, reducing human error, frees employees from monotonous tasks, eventually improving productivity and revenues.
The centralized database provides quick, controlled access to employees who need information – from procurement to HR to sales.
They can also get cross-departmental information which helps them in strategic planning and cost reduction.
ALSO READ: How ERP Can Improve Business Efficiency?
What Is Business Intelligence (BI)?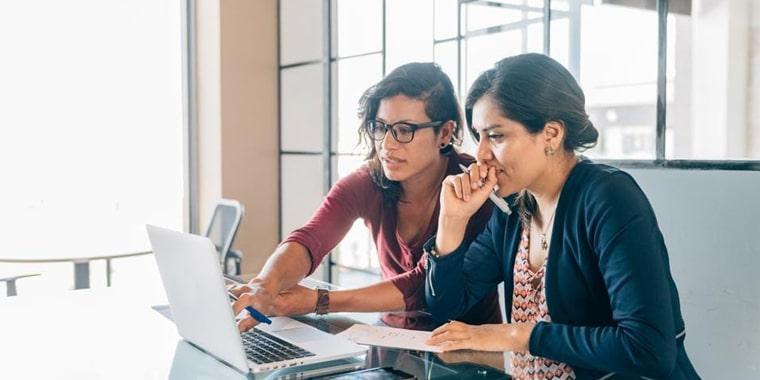 Business Intelligence or BI provides a comprehensive view of business operations, enabling managers and entrepreneurs to make data-driven decisions to improve business.
It plays a critical role in the formation of strategic and tactical responses to market demands and helps organizations to be more efficient in operations, concentrate on their competitive edge, and eventually, enhance profitability.
The business intelligence data management software generates reports, provides dashboards, IT systems at the customer end, and external sources to present an in-depth and comprehensive view of the current status of the organization.
This is done by collating data from a central database.
BI provides detailed evaluations that help managers and owners improve their operations in the front as well as back office.
Let's say a retailer is facing problems in the supply chain; BI analysis can be done to reveal where the bottleneck is being caused.
Plans can be made to remedy those bottlenecks or to reroute shipments through better routes, as the case may warrant.
ALSO READ: Common ERP Challenges
Key Differences Between ERP and BI?
ERP and BI have quite a few similar functions and overlap in some ways but there is also some notable difference between ERP and business intelligence.
Let's examine what they are:
ERP software essentially integrates disparate, siloed systems in your business, and creates a unified and central data repository.
It collects, stores, and manages data relating to business activities – in other words, it collects enterprise data.
BI, on the other hand, interprets and analyzes this data, and presents it in the form of intuitive dashboards and reports, helping managers and owners to make sense of the collected data, and to help them make decisions to aid in the growth of the company.
In fact, you could say that BI means gathering, storing, and analyzing business information – knowledge management.
They are built to mine datasets, aimed at discovering opportunities that would not be ostensible otherwise.
Robust ERP solutions like Tranquil automate repetitive and monotonous activities, streamline operations, and organize the overall admin functions in a business – which BI does not do.
ERP software is at its core, a unified process management software that helps optimize operations of various departments like Purchase, Production, Supply Chain, HR, Finance, Sales, and so on, to usher in greater efficiency, reduce overheads, and improve the bottom line.
Whereas business intelligence for business works on this data and helps businesses to organize, examine and contextualize the data to provide actionable insights.
ERP and BI also support varying levels of decision-making.
ERP is at its most valuable at the operational level as it affords an accurate view of how every function is performing in real-time.
BI studies all of that data, enabling companies to get an in-depth understanding of their KPIs and identify trends that can help in fine-tuning strategies at the top level, fundamental level, or even both.
BI systems drive improvements in performance while helping reduce expenses and save resources and time.
It also helps to analyze the ROI of new strategies or to measure the cost savings achieved in implementing a real-time approach to inventory management.
Here are the differences in some depth:
Level
BI tools are generally used by analysts and top-level management for high-level discussions for strategic and tactical planning and discussions.
The software accesses every bit of information – strategic, financial, and operational, to churn out high-level insights, and provides pan-organizational information.
ERP is an operational system with transactional and operational data, providing an operational view of the business, but without trend analyses or high-level overviews.
System
BI has developed an Online Analytical Processing System (OLAP) to deliver powerful analytic capabilities like dashboard management, high-speed access to reports, and building balanced scorecards.
It also offers advanced features of analysis that enable the viewing of data from various sources in one space, in the format you require.
ERP is built as an Online Transaction Processing System (OLTP), and used for recording transactions as and when they happen.
The data architecture of ERP is created to ensure speedy capture of transactions while utilizing minimal space.
Agility vs. Efficiency
BI has metamorphosized from historical reporting for forecasts and planning for the future.
This helps organizations become agile, and allows them to make high-level decisions to leverage future conditions.
ERP systems are developed to boost overall organizational efficiencies, through improved communication and collaboration, remote working, cost savings, automation and streamlining of processes, and so on.
What's Your Business IQ?
BI has been talked about and used since the 1990s; now that you have a fair idea of what it entails, how does it fit in with your business, and more importantly, with your ERP software?
Complementary Technologies
We have seen that ERP and BI are definitely not the same; they, however, can be made to work in tandem to convert your data into not just information, but knowledge, helping to convert your business into a data-driven growth machine.
ERP software organizes business data, and BI mines it, chews on it, and spits it out as easily understandable information bits.
ERP and BI have a synergistic relationship; BI cannot function without ERP, and ERP's value is significantly heightened when integrated with BI.
If you have already implemented an ERP but not a BI software, the time is certainly ripe for you to also add a BI software or a BI module to your ERP so that you will empower yourself and your employees to make informed, effective decisions that will set your business on the fast track to growth.
This is because, while ERP takes care of your business in the now, the additional functionality of BI can make your business future-ready with valuable insights.
Why You Need Integration of Business Intelligence and ERP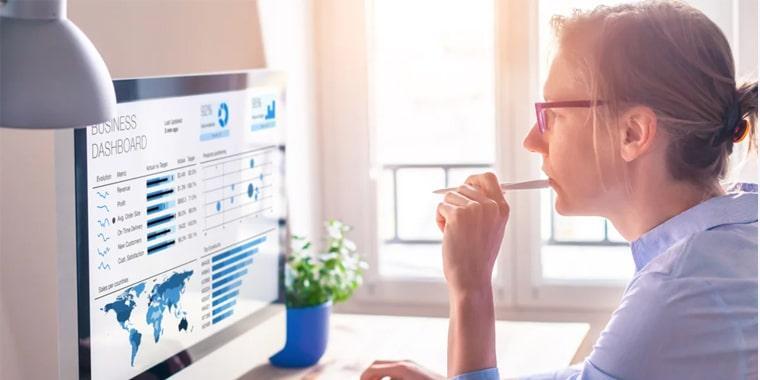 To make effective decisions for your business, it is critical that you have access to data, and analytics – this has been the norm for some time.
However, the amount of data a business collects today is humungous – both structured and unstructured.
This data needs to be organized, stored, and analyzed efficiently.
When ERP and BI are integrated, it helps in consolidating tons of data and transforming them into distinct, actionable insights.
Future-centric businesses who want to shift to forecasting and predictive models from historical reporting have already taken this step.
BI has the capability to identify trends and patterns and recognize market shifts to make proactive adjustments in plans, giving businesses the much-needed competitive edge in this economy.
BI and ERP software give each other a leg-up, doubling the benefits each offers individually.
By transforming raw data into actionable information, BI enables a company to gain an in-depth understanding of its customers and markets, providing valuable metrics like ROI for marketing spends.
ALSO READ: Ways to Improve the Procurement Process
Benefits of Business Intelligence in ERP
1. Better Customer Service
The combined power of BI and ERP facilitates the personalization of product and service offerings, marketing messages, and buyer experiences, building deeper brand loyalty and encouraging customers to engage more.
BI insights foster the creation of improved business processes like supply chain, and more impactful marketing strategies, eventually enhancing effectiveness across the company.
2. Data Aggregation and Analysis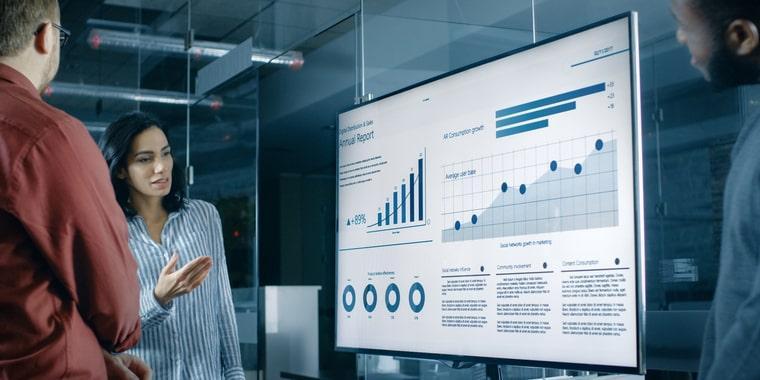 ERP systems churn out mountains of data, and its value is unlocked completely only when BI is integrated into the software.
It throws up in-depth insights within the ERP platform, in the centralized dashboard, allowing every department to leverage those insights.
ALSO READ: How to Choose an ERP Software to Enhance your Purchase Management?
3. Customization
It is possible that individual stakeholders may have specific requirements with regards to data analysis, even when different teams or departments in the business are striving for common goals.
An integrated ERP-BI solution enables every team to produce the reports and display the dashboards they need to fulfill their unique objectives.
4. Predictive Capabilities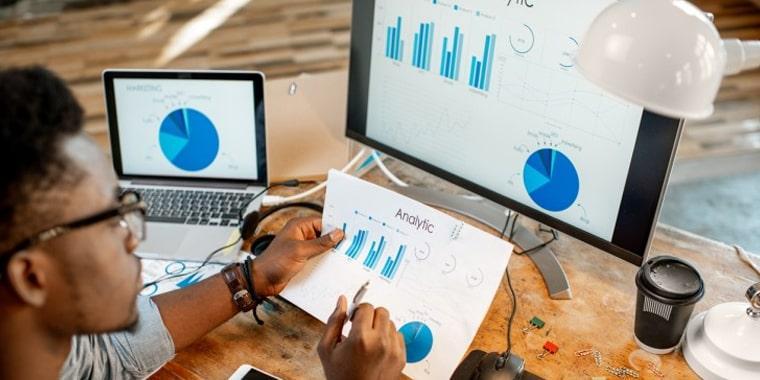 ERP focuses on recording data of activities performed – historical data; BI goes a step further to predict future sales based on this data, using analytical tools and models.
In combination, the two software tools afford businesses a comprehensive vision of their immediate past, current status, and future possibilities.
5. Real-Time Decisions
As mentioned earlier, ERP reporting is historical; but today businesses need to focus on predictive analysis to beat the competition.
When BI delivers data and predictive analysis in real-time, it fosters more effective, bold, and quick decision making, that spurs business growth.
ALSO READ: How Do ERP Systems Work?
6. Comprehensive Insights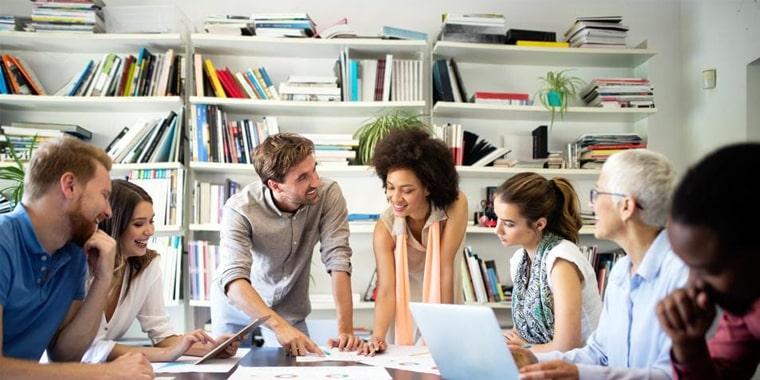 With the integration of these two powerful software apps, business managers don't need to keep toggling between them to evaluate the business performance and current situation; everything is visible upfront in a central repository, which allows them to respond quickly to situations, grab opportunities immediately, mitigate risks at the earliest, and prepare for the coming future through strategic planning.
7. Efficiency
Integrated BI-ERP software helps businesses in the consolidation, organization, and evaluation of volumes of data from disparate sources in real-time.
This gives rise to agility, something that was missing in businesses hitherto.
ALSO READ: Benefits of ERP for Accounting and Financial Management
8. Improved Reporting
By enabling departments to integrate huge datasets for in-depth study, BI enhances the reporting capabilities of an organization.
Simplified dashboards present complex analytical data in an easy-to-understand format for all authorized users in the company, regardless of their technical know-how.
Final Thoughts
It is abundantly clear now that when ERP solutions like Tranquil integrate BI in the platform, it offers double the benefits to businesses, regardless of their size, or industry vertical.
To see how ERP-BI integrated software will fulfill the unique requirements of your company, schedule a demo with us at a date and time of your convenience. Our representatives will be at hand to explain exactly how the system works and how it can improve your processes and decision-making; feel free to ask questions on any aspect of the software.