How to Choose the Best Business ERP Software Solution for Your Organization?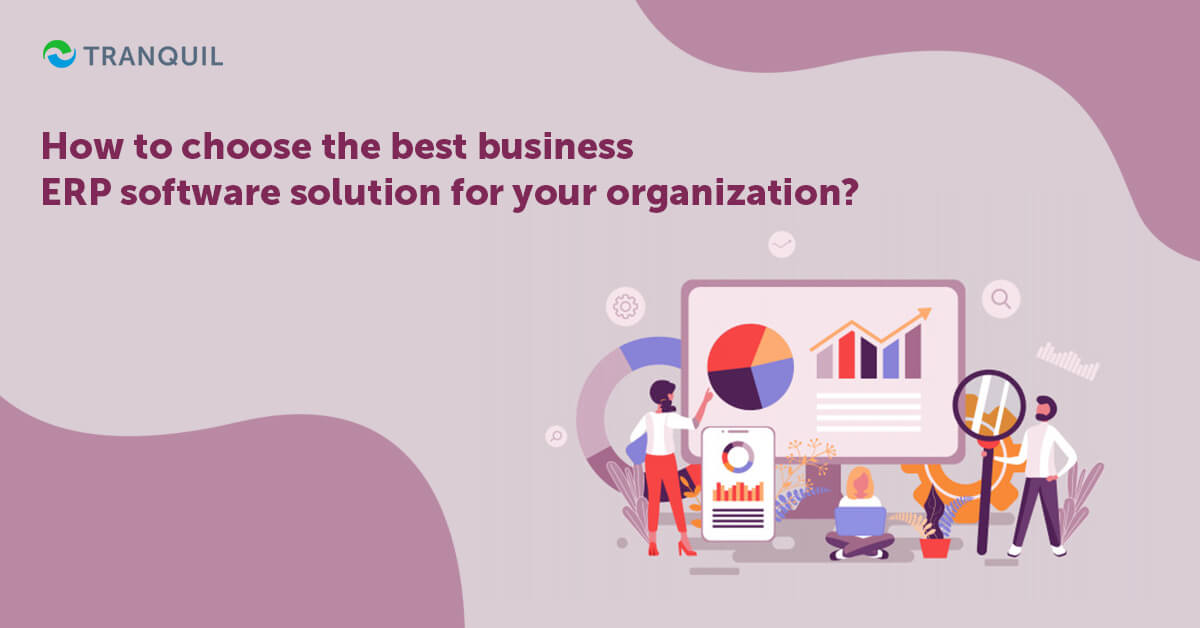 ERP software plays a quintessential role for every business because it can provide agility to accommodate the complex and emerging workloads.
That's why businesses are highly dependent on this ERP software for their betterment.
But the markets are crammed with a plethora of enterprise resource planning system software solutions, hence it is a daunting task for you to choose the best ERP solutions for your business.
Because only the right enterprise resource planning systems encourage organizations to secure their sensitive business data and information safely.
By utilizing all these information businesses can make wise decisions which will help them to reach the success of zenith.
So, how to choose the right ERP software for your business?
You should consider certain crucial factors to make this process simpler and facile.
But before digging this, let's take a look at different types of ERP software solutions that are available in the market.
ALSO READ: Questions to Ask Before ERP Implementations
Different Types of ERP Software Solutions
On-Premise Software:

This type of software is installed and controlled over its own physical location hardware. It is usually maintained by the installer.

Hosted Software:

You need to maintain this type of software yourself on servers that might be rented or owned. You can connect this software to the internet so that you can monitor it easily. Moreover, you can access it from anywhere in the world as per your requirement.

SAAS (Software As a Service):

This type of software is maintained and monitored by the software provider. You only get a license for using it for a certain period. If you have the internet, then you can easily access it from anywhere in the world.
What Factors Do You Need to Consider Before Selecting an ERP Software Solution?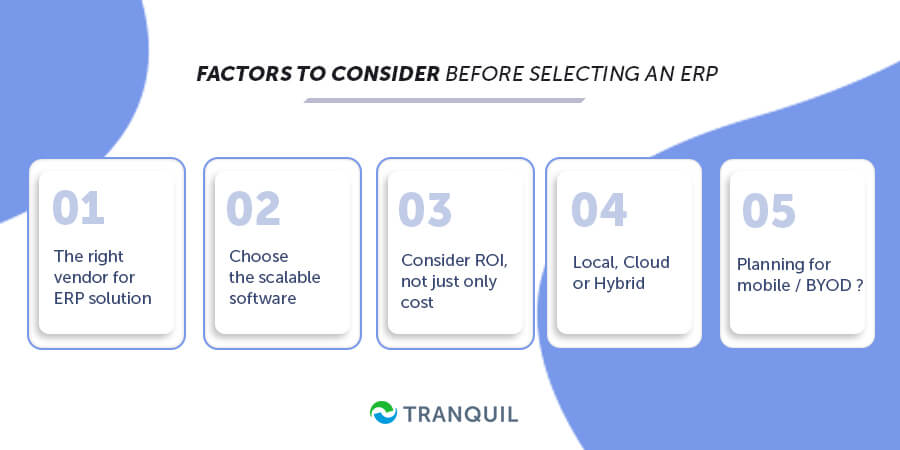 An effective ERP software solution will conglomerate all the business processes and will help your organization to make data-driven decisions and uplifts business productivity.
You can consider a few solution software tools for handling different works of your organization.
For example, you can go for financial management to improve your control over the assets and accounting, CRM will provide you to maintain better customer relationships, project management software is ideal for monitoring your projects, and project planning software will help you to plan your projects deal with reporting, analysis and much more.
The Benefits of Using an ERP Software Solution
An ERP software solution offers multifarious benefits to your organizations.
ERP encourages you to coordinate with other operation, partner, vendors and suppliers in collaboration or partnership.
This software platform offers new locations, industries and geographies with fewer efforts.
You can go for a single ERP solution and then, uplift it easily by as per your business needs and requirements.
How to Choose the Right ERP Solution?
This can be an appalling job when you are looking for the most accurate ERP solution for your business. But still, a few tips and tricks will help you to manage the situation.
1. Research as Per Your Need
This is the most vital approach before ordering management ERP solutions for your business.
You need to do some serious researches of your business requirements and needs.
You should make certain questions related to your business processes and internal review which helps you to outcast your contenders.
Make a detailed analysis of your reviews and research to find out what your competitors are doing and how they are meeting customers' expectations.
Once you have identified the process, analyses it closely and calculated all the benefits, costs and payback period, you will certainly able to choose the right ERP software solution.
If required, you can hire an ERP consultant in this process to make it effective and simpler.
As per Panorama's 2017 ERP report, 70% of companies who have implemented ERP software needed customized solutions for their businesses.
Therefore, you should consider those vendors who can meet your needs and requirements.
You should ask them to customize the product so that it can meet all your expectations.
ALSO READ: ERP Software to Enhance your Purchase Management
2. Be Cautious while Selecting the Right Vendor for ERP Solution
As per Panorama's 2017 ERP report, near about 46% of companies who hired ERP vendors were dissatisfied, whereas only 21% were satisfied and rests were neutral.
So, you should be very careful while selecting the right ERP vendor.
Your vendor's experience plays a prime role while you are planning to implement an ERP software solution for your business. Because an experienced vendor will help you with the right system which will improve your organization's productivity and growth. On the other hand, a novice implementation partner might not provide you with the expected results even when they deploy a highly sophisticated and delicate ERP system.
Some vendors won't provide after-sales support and service. They just disappear after selling their products. So, you should choose a vendor who has an exceptional after-sales support record.
Every employee may not get comfortable with ERP software so ask your vendor to provide training sessions so that everyone can learn it.
Ask your vendor clearly how long they are going to take for the implementation.
To implement customized ERP software, vendors need to have a detailed inspection of your business processes. So, provide them with your requirements and business needs.
An ERP software will certainly uplift your processes which will automatically increase monetary benefits, so it's good to confirm benefit realization time.
If your company wants to customize online project management operations, then you should choose a local or regional ERP vendor as your budget is a constraint.
Moreover, they will provide better communication and support to your businesses.
ALSO READ: Guide on ERP Configuration vs ERP Customization
3. Choose the Scalable Software
This is another criterion that you need to consider while choosing an ERP project management system.
The prime aim of implementing ERP software solution is to enhance the profit and growth of your business.
So, you should prefer an ERP system that is scalable and can be upgraded to support the growing intricacies as the business grows.
If your system can be scalable, you don't need to deploy new ERP project management tools and this can save a chunk of money and time for you.
4. Always Consider ROI, not Just Only Cost
While implementing ERP software, you don't only need to consider the investment and price alone; you also need to think about ROI.
A comprehensive ERP software system manifolds business profits and efficiencies.
But if you go for a less-suited ERP software which is relatively economical or less pricy at the beginning, then you may need to do a lot of customization as per your business needs which can automatically enhance the cost.
ALSO READ: Guide on How Do ERP Systems Work
5. Local, Cloud, or Hybrid
Before implementing your ERP software, you need to decide what kind of platform you want for the software.
You need to choose between the local, cloud, or hybrid models.
Each platform has their own upsides and downsides.
For example, local installations demand a high investment.
On the other hand, cloud software systems need cautious integration evaluation and compatibility testing before data migration.
While hybrid systems with careful customization are apt for your businesses and they provide you with a practical solution.
ALSO READ: Important ERP Modules and Features
6. Planning for Mobile
Has your company implemented BYOD at your offices?
If not, then, you need to implement it soon to run everything in a hassle-free way. New age employees and Millennials are always seeking for the flexibility at their workplaces.
But implementing BYOD is not a facile job as it has many challenges.
So, you should choose an ERP software that is not only mobile-friendly but also has adequate security features so that all your sensitive and imperative data is encrypted and secure.
An apt ERP software is suitable to blend all business operations, automate data-driven processes, and performance together.
On the contradictory, an unsuitable or mismatched system has the capacity for enhancing errors, which can be tarnishing your market reputation.
When so much is at stake, you should meticulously choose the right ERP software solution for your business.
Tranquil is an eminent IT company which is specialized in ERP implementation. The company offers the clients in selecting the right ERP software for them which can suit all their requirements and needs. The company offers various project management software solutions and project management apps to the clients.
As a company, we are equipped with the best-in-class implementation techniques which can save your money, time, and effort. Our ERP software solutions will certainly generate a higher ROI for your business. To learn more about our company and its products, just visit our official website. If you want to simplify your business processes and make organizations more agile, you should get in touch with us as soon as possible.