Guide on How Do ERP Systems Work
Before we talk about how ERP works, let us get an in-depth understanding of what it is.
Meaning and Definition of ERP
ERP can be considered to be a system that maintains a database that contains info related to all the processes in a business: HR, Finance, Sales, Customer Relationship Management, etc. But it's not just a database – it's a whole lot more.
It automates and streamlines business processes, integrating with other software solutions to present real-time, unified, organization-wide data in a single place.
It reduces human intervention and manual labor, decreasing errors and boosting overall productivity and efficiency.
You can say that in short, it is a suite of integrated software that helps you to manage, automate and link important business processes together.
Centralization of information also makes the processes more consistent and ensures improved customer service.
A Brief History of ERP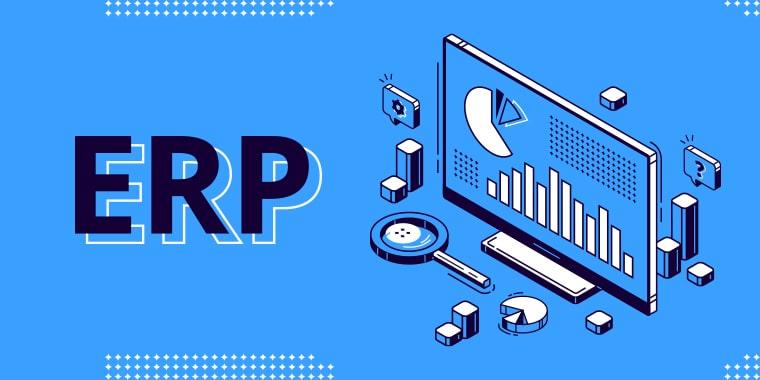 The idea of ERP, interestingly enough, has been around for a pretty long time – way before the actual ERP application was launched. Let's see the timeline to get a better understanding of the evolution of this software.
The 1960s: With the number of manufacturing companies increasing, automated systems emerged, to help with managing the various processes.
1972: The foundation for ERP automation was laid when SAP launched its primary solution to process data in real-time.
Over the following twenty-odd years, the technology advanced significantly, with new functionality and features being added, and ERP grew in popularity.
The 1990s: More and more businesses adopted ERP, and with increased penetration of the internet, providers adapted and tweaked the system to serve a wide variety of requirements.
2013: The first cloud ERP solution was launched, and businesses could choose to have their app and data stored on remote servers rather than on their premises.
2021: Cloud is now the most popular and sought-after mode of deployment for ERP software – for example, Tranquil ERP . Mobile apps have made ERP even more accessible and convenient for companies.
ALSO READ: Top Trends of ERP System For The Future
What Does an ERP System Do?
ERP software like Tranquil makes use of a centralized database to optimize business processes, reduce manual effort, and simplify complex workflows. The dashboards in an ERP system display real-time data collated from various departments and allow employees access to critical information while helping to measure productivity and profitability.
Without ERP, this data is siloed according to departments, and it can be very difficult for say, a sales manager to access info from Inventory, and so on.
However, with an ERP solution, information from almost every department in the company is displayed in one place, allowing your employees to take timely decisions and achieve business goals. They can also save the time required to complete their tasks, and also improve inter-departmental collaboration.
Let's see how ERP systems work with an example:
When an ERP solution receives an order from a customer, it automatically routes it to the distribution center that is located closest to that customer or is positioned to execute that order the fastest.
If you have observed keenly, you may have noticed sometimes that the return address on the package of some product you purchased may not match the address it was sent to you from. This is ERP efficiency at work!
ERP software may analyze factors like shipment time, inventory levels, and so on, to determine which distribution center to send the customer order from.
The main aim of ERP is to improve the effectiveness and profitability of a company by optimizing resource use; this could be brought about by reducing the number of resources used, or allocating them appropriately for various tasks, and so on.
By centralizing information – metrics, reports, and real-time data – from disparate systems and departments, allows a 360-degree view of the allocation and use of resources.
These insights can help management to make informed decisions on improving resource use to boost profitability and growth.
Like, if you see that some strategies are not giving you the expected ROI, you can remove resources from there, and re-allocate them to those strategies that are performing well.
ALSO READ: Understanding the Role of ERP in Supply Chain Management
How Does ERP Software Work?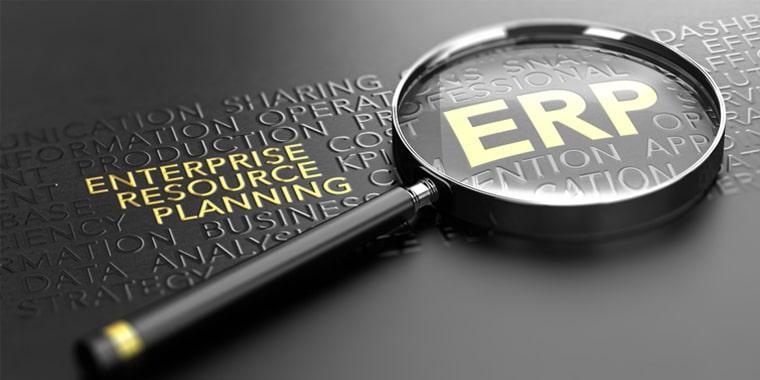 We have seen what an ERP solution does – but how does ERP software work exactly? Let's find out.
ERP software uses a definite, standard data structure to function. Any information entered by a specific department becomes immediately available to every authorized user across the company. As there is a uniform structure, everyone knows the situation in the company.
Let us consider a food distribution chain with multiple locations. They often share resources like HR and inventory.
As information about sales, quality, and employees is entered in the software, the format indicates the exact location it is from.
Data is then incorporated into workflows and processes throughout the organization.
It helps management to see which location is performing better at say, reducing spoilage as compared to another location not very far away.
The Finance team can study rent and sales, and that can help them decide if consolidating would be a good idea or not.
ALSO READ: Benefits of ERP Software for Healthcare Industry
For ERP solutions to be at peak efficiency, it is essential that it has modules for every major business function in a company, and data is entered properly and in time; it is also imperative that the maximum number of stakeholders are given access to the system.
To facilitate automatic data flow into the ERP software, you can integrate all the disparate business systems you have implemented, even if they are from different providers. Systems like HRMS, CRM, Payroll, etc., can be easily integrated with your ERP.
How ERP software works today is that the software, including the centralized database with all the information, is stored on remote servers so that on the premises of the client, no extra storage is required.
Employees can access the system from wherever they are, as long as they have a computer or mobile device that is connected to the internet. Of course, access is strictly controlled through two or more authentication factors.
ALSO READ: Influence and Importance of ERP System in Different Industries
What Are the Benefits Of An ERP System?
In short, ERP delivers significant business value, like:
Pan-organizational visibility
Real-time business data and analytics that provide actionable insights
Improved customer service
More efficiency and productivity
Increased automation and minimized errors
Streamlined, speedier business processes
Higher security and quality of data
Scalability – to align with business growth
Better supply chain management
Decrease overhead expenses
Easily integrates with other business software
Ensure Proper regulatory compliance
No additional IT expenditure
Facilitates remote work, collaboration, and monitoring, when it is deployed in the cloud
ERP software reduces the resources required to successfully and optimally run a business without compromising on quality and profitability. The entering of data happens automatically in the backend, and this information is shared with units that require it.
Let us assume that the system receives an order for a particular item that happens to be one of the last few ones in stock; the inventory management module notes this information and alerts relevant departments, like Purchase and Finance, so that the item can be ordered and restocked. The sales team is also notified so that they can be careful when customers enquire about that item.
ERP systems can be customized to include modules that your business needs so that you can achieve your goals quicker.
How To Use ERP Software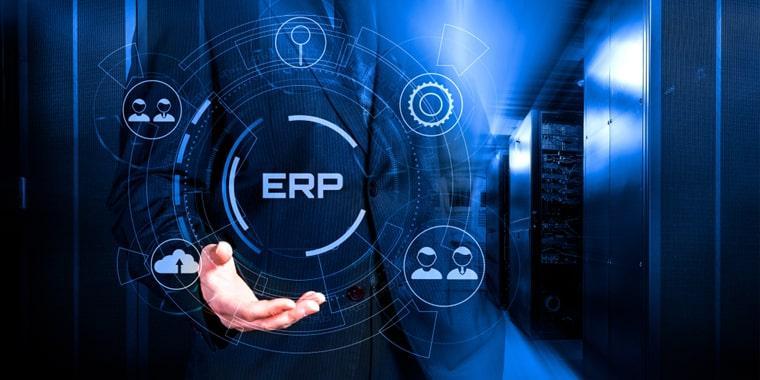 Implementing an ERP system will of course cost you money, so it's best that you ensure you get the best use out of it. Here is what all you need to do for that:
Evaluate your Business Processes – Decide the processes that are most important and need maximum attention. Is it a robust Finance module that you need, or Sales? If you need all the processes, then you need a higher-priced software that will handle it all.
Train your Team – Make sure that your employees receive sufficient training on the correct use of the software; this will ensure that your company will get the most out of the ERP solution. Employees will be able to adapt easily to the change as well.
Ensure Data Quality – ERP solutions handle every detail related to the flow of data. You need to ascertain that the data is precise, relevant, current, and complete, to get the best out of it. Define data entry standards across departments, including file naming practices, versions, and so on. Conduct audits periodically to check that these standards are being adhered to.
Customize – Many ERP systems provide a 'one size fits all solution. Talk to your provider and insist that the solution you implement has to have all the functionality you need; and also to eliminate the modules and functions you don't want. Customize the software so that it aligns with your business requirements. You can also do small-time customizations with plugins and integrations. This is one of the best ways how to use ERP system to get maximum ROI.
Future-Proof your solution – the ERP solution you implement now may not be as useful to you 5 or 10 years down the line. Technology is constantly changing and evolving, and the business landscape is also highly dynamic. Find out from your vendor about their roadmap for the future and whether they do adequate research and development, and if they are capable of incorporating additional functionality in the future.
Think about Integration – integrating disparate software with ERP helps improve the efficiency of your processes even further, eventually impacting your bottom line.
         ALSO READ:  ERP software in Warehouse & Fixed Asset Management
Total Ownership Cost – investing in ERP won't come cheap; look at the total cost of ownership, including initial purchase of hardware, future upgrades, maintenance, and so on. Compare that with the time and effort you expect to save with the implementation.
Cross-functional Implementation Team – it is a good idea to have a team comprised of members from multiple departments for the implementation of the new system. This way, you can be sure that all the important areas and concerns of your business are handled, and you can take feedback from all departments who will use the system.
Senior Management – it is essential that they are with you and on board with this decision. While it is not necessary that they are involved in the implementation process, it is imperative that they approve of the decision to implement ERP without hassles. This will smoothen resource allocation for the implementation.
System Lifespan – How is ERP used in business, and what ROI you get from it, determines if it was a viable and feasible decision or not. These returns may vary over time, so it is important to track and make adjustments to your goals every now and then. Ideally, even more than just an ROI, you should get real value for your money.
Schedule a demo with the Tranquil team, and get your doubts and queries resolved.
Tranquil is a prominent cloud-based ERP software system that helps you to manage your projects and business work in a hassle-free way. Moreover, with this software, you can access your business data anywhere, any time. If you want to manage an ERP software system, you can get in touch with Tranquil software.