How ERP Software is Playing Role to Improve Business Productivity?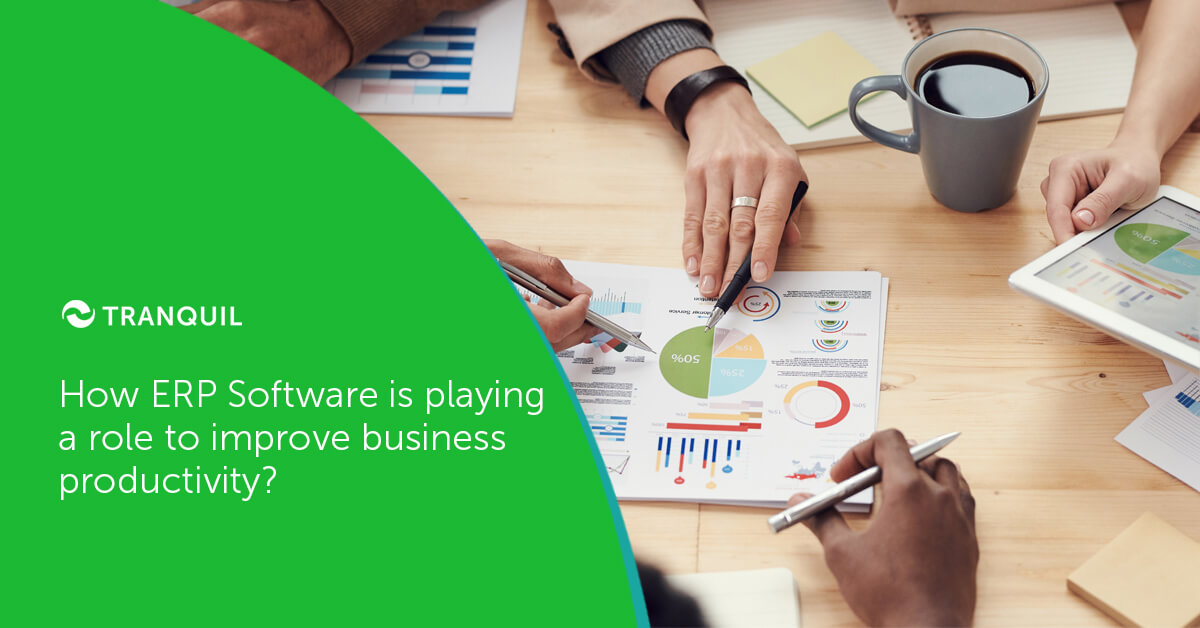 ERP (enterprise resource planning) is a burgeoning trend in this corporate arena.
All businesses (irrespective of their size and nature) are facing a chunk of problems to stay ahead in this fiercely competitive era.
To overcome all these challenges and run their departments in a hassle-free way, every company needs an effective ERP system in the business.
ERP system plays an imperative role as it improves overall business productivity and helps companies to proliferate in this steep competition.
The popular ERP software solutions are also responsible for enhancing the productivity of an organization as well as an employee.
Here, we are mentioning how ERP software is playing a crucial role in enhancing your business productivity and profit.
ALSO READ: Guide on How Do ERP Systems Work
How ERP Software Enhancing your Business
1. Improves Efficiency
A Cloud-based ERP software system can efficiently manage all the resources of the organization.
With this business task management software system, now you don't need to enter all the information manually.
Since you don't need to keep all of your imperative and sensitive data and records in excel sheets, hence, this software eliminates several repetitive processes.
ERP software can also streamline all business processes by making them efficient and easier for businesses.
Now, you can easily collect data and update all records as per your requirement and choice.
An effective ERP system integrates all departments (finance, marketing, manufacturing and inventory control) into a central database.
With this software, the reporting formats and procedures can be customized for each company.
This helps in collaboration and makes the discussion smoother between departments.
Manufacturing processes can be streamlined using automation features of ERP.
Now, you can manage your inventory control in a better way through this centralized system.
The customers' benefits and needs are also taken care of in the entire life-cycle of the product.
ALSO READ: Important ERP Modules and Functions
2. Improves the Project Management of a Company
ERP software plays a crucial role in the improvement of the project management of a company.
Business project management software manages everything from customers to schedules to employees and invoicing.
This kind of ERP project management software ensures that all of the tasks are completed on the stipulated time.
This software also takes care of the customers so that they can get satisfied with the work.
3. Better Information Management through Business Automation
Performance metrics and measurements are imperative in evaluating business progress.
Moreover, they also help you in setting up your future goals.
When your business starts to thrive, it would be a daunting task for you to manually calculate sales margin, profit ratios and other such metrics.
ERP system encourages automation to the business.
By using this software, employees across the organization can access shared data and information without the need to maintain manual records.
This system also generates synchronized reports based on key business metrics.
Since everyone can access the data immediately, hence the company management can take significant decisions quickly.
ALSO READ:  Benefits of Mobile ERP
4. Improved Workflow Increases Productivity
With ERP software system, workflow in all departments gets streamlined.
Now, data access is simplified through user-friendly interfaces.
Employees can now get all the relevant information easily that is necessary for their job.
Whether it's extracting a custom or standard report or formulating a report for presentation, ERP software makes every employee's job simpler and easier.
This will automatically enhance overall productivity.
ALSO READ: Benefits of Having an Employee Self-Service System
5. Business Accounting Gets Simpler
Any business will struggle with its accounting procedures if they are done manually.
Moreover, if the sales, accounting, finance and HR departments don't access the shared data, it will become difficult for a company to sustain in this world.
Financial reporting and everyday accounting consume a lot of time and effort from the employee.
By using ERP business accounting software, these tasks can be reduced.
Using ERP to integrate and analyse important financial data will uplift the productivity and lessen delays.
ALSO READ: Tips to Choose the Best Business ERP Software Solution
6. Transparency in Every Department
Information and data are extremely crucial business assets for every company.
Data security and integrity is very important to ensure that every business information is processed and accessed by right and trustworthy people.
ERP software will not only maintain the data safely but also give access to the data only to people who are authorized.
Now, strategic information can be maintained at one place, but the update of such information can be done by one or more authorized people.
Thus, ERP provides transparency in every department of a company.
7. Elimination of Redundancies
Data redundancy is one of the biggest problems with a non-centralized data management system.
Redundant data is such data which has been repeated twice or more.
This can create confusions and inconsistencies in businesses.
This is a quotidian problem for businesses which have multiple data storage locations.
But by using effective ERP software, this problem can be avoided.
ALSO READ: Top Trends of ERP System For The Future
8. Improve Reporting System
ERP software has many advantages as it improves the reporting system of projects in a company.
Using ERP software, a business can compare different functions across various departments and analyse the work progress of different projects.
Now, there is no need to write several emails and maintain spreadsheets.
A company can make its reporting easier with ERP software.
ALSO READ: Detailed Guide on Hybrid ERP
9. Better Customer Satisfaction
Keeping your customers satisfied while managing your sales and inventory can be a daunting task for a company.
This can be more complicated if you have your customer and inventory data housed on different platforms.
This could be time taken if you try to report product-related information to your customer.
Lacking updated inventory data, this can make your life hell.
ERP helps a business in maintaining up-to-date information and also generates a real-time update for all data.
This will help your customer in accessing accurate and updated data.
This will certainly improve your customer care relationship and will make your customers more loyal to your company.
ALSO READ: Understanding the Role of ERP in Supply Chain Management
10. Information and Data from Various Departments are Easily Accessible
Data sharing with different departments is a difficult job for organizations.
It's a very time-consuming job to collect data from various departments and maintain it properly for the betterment of the company.
But ERP systems have made this easier and simpler for the organizations.
Now, data management and access are easier from all departments.
Data from various projects can easily manage and maintain with this single ERP platform.
11. Assure Data Security
Data security is an important thing for the growth of an organization which can never be compromised.
Data security is not a concern when you are using an ERP software solution for your organization.
ERP software improves the security consistency of each data, this enhances the accuracy.
ALSO READ: Understanding the Role of ERP in Supply Chain Management
12. ERP Gives a Positive ROI
ERP implementation is a time-consuming process and it may take up to 3 years in a conventional scenario.
But with Cloud-based ERP solution, you can minimize the time frame.
According to surveys, companies which put stress on return on investment (ROI) at the beginning of the ERP implementation, could-based ERP solution can give significant results after a year.
A cloud-based ERP solution is beneficial for many things including cost reductions, quality improvements, customer satisfaction, reduced employee count, redeployment, and improved market share.
13. ERP is Customizable and Adaptable
ERP software system can easily be customized as per the requirements of the company irrespective of the operating systems and database systems being used.
ERP solutions are not only made up for large organizations, it is now suitable for small and medium businesses too.
Moreover, ERP systems can be implemented in a step-by-step fashion which means a company don't need to invest humongous amount at the beginning.
This is beneficial for companies where the budget is a constraint.
ALSO READ: Different Ways to Improve the Procurement Process
Implementation is at the core of ERP solutions and the success lies in the understanding of the business processes that are usually done by functional consultants either available in-house or outsourced.
Browsing through various solutions to find the best one for your businesses is an uphill task.
This is the perfect time to replace traditional legacy software with an enhanced ERP solution.
Because an ERP solution plays an important role in managing and improving your business productivity.
If you are ambiguous to implement the ERP solution at one go, you can start with an introduction to ERP and then incorporate all the departments gradually.
Enhance your business productivity with Tranquil ERP software solutions. Tranquil ERP software comes with various features including project management, inventory management, sales & distribution, procurement management, finance management and HR & payroll management. As per your requirements, you can implement these software solutions which will boost up the growth and profit of your company.
To know more Schedule a demo